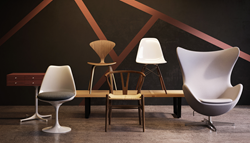 What makes Origins unlike any other collection of modern furniture is its versatility within the marketplace and its ability to solve a problem shared by both contract and residential consumers
Teaneck, NJ (PRWEB) July 25, 2017
Prominent furniture e-tailer, Inmod (inmod.com) moves Mid-century Modern design forward with the launch of its exclusive Origins Collection. Origins by Inmod bridges Modern Design with Best-in-industry production and value. This new interior collection puts the consumer in the designer's seat to personalize style, color, texture, and material. Origins also maintains massive stock for quick shipment of the most popular designs.
The modern consumer, whether individual or commercial, prioritizes personalization and instant gratification. Origins allows Inmod to meet these needs without compromising production value, environmental impact, or overall design aesthetic. Rather than produce limited-run replicas at exorbitant prices that overextend the client or diminish the quality of the original design, Inmod has carefully curated a collection of hundreds of iconic, fully-customizable Mid-century mainstays by contemporary designers using the latest techniques and most luxurious materials. Each piece in the collection provides the homeowner, designer, or business with on-trend, mid-century design without sacrificing quality or manufacturing innovations.
Origins by Inmod designs are instant icons, channeling classic lines, colors, and styles and updated for 21st century living. The collection offers the convenience of customization at unrivalled value by combining the company's decade-plus of experience in design and retail with a pipeline of responsible manufacturers and cutting-edge designers. Alongside Inmod's broad catalogue of designs inspired by the likes of Jacobsen, Nelson, Wegner, Saarinen, et al., Origins expands the collection with authentic original pieces by modern designers like Sean Dix and Yvonne Potter.
The most popular designs and colors are always in-stock, allowing for quick order turnaround of just two business days to meet growing consumer demand. Designers and clients can also choose from thousands of combinations of textures, colors, and materials to create their own unique interpretation of iconic designs. Origins encourages the consumer to become the designer.
21st century design innovation also requires environmental responsibility. All Origins items are manufactured using efficient, minimal-impact manufacturing techniques. In addition, all woods and veneers are fully sustainable and FSC-Certified. Marble and granite are carefully selected from Italy, while American, Italian, and Brazilian sources provide textiles for the collection in various hides, furs, and six different color families.
"The quality of Origins by Inmod is excellent, which is exactly what our clients are looking for. They want authenticity in the design mixed with tasteful colors and styles. Especially impressive are the new designers that have been introduced into the line. It is a breath of fresh air to see new designers like Sean Dix take on Mid-Century furnishings."
Dyann Klein | President, Newel Rentals
Origins by Inmod fits seamlessly into the larger Inmod design family. Inmod was founded in 2003 to connect the general public to the very best in modern design and décor. With Origins, Inmod takes this connection to new levels, integrating new manufacturing techniques with classic forms and empowering the consumer to envision their perfect, personal, modern-design space.
"What makes Origins unlike any other collection of modern furniture is its versatility within the marketplace and its ability to solve a problem shared by both contract and residential consumers. Furniture collections aimed at interior designers and architects have been historically cost-prohibitive for mass-market design enthusiasts. On the other hand, so much entry-level, mid-century design is aimed exclusively at the millennial market and lacks the quality required for commercial projects. Ultimately, such design fails to provide the consumer the kind of emotional connection they seek with an object of design. This is the problem Origins by Inmod solves."
Casey Choron | Inmod Co-Founder
Origins by Inmod is available exclusively online at https://www.inmod.com/origins-by-inmod.html.