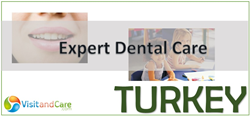 At VisitandCare.com we're constantly pushing the boundaries of medical tourism, and we strive to work with innovative providers, like Udent and Cosmetic Dentistry of Istanbul, who hold similar ingenious values.
New York, NY (PRWEB) September 16, 2014
Recognizing the growing demand for affordable and comprehensive smile makeovers, leading dental practices in Turkey are providing Middle Eastern patients expert dental services. VisitandCare.com's partnered dental providers in Turkey are renewing their commitment to patients who want to maintain optimal dental health and seek professional cosmetic dentistry services.
Executives at VisitandCare.com have reported an incredible 57 percent increase from Middle Eastern patients over the last 3 years in response to their commitment. The company's partnered providers have witnessed a total of 1.3M in revenue over the last year alone — with world-class services for dentures, dental implants, crowns and veneers, amongst a long line of dental treatments.
The source of much hype in Turkey features incredibly prominent, aggressive dental programs that provide patients the opportunity to work with dental specialists who have studied extensively — all over the world. This dedication and uncompromising commitment is exhibited in the thousands of patients traveling to Turkey from Saudi Arabia, Iraq, Lebanon, Libya, Egypt, the UK, Germany, Emirates, and the Netherlands.
Beyond Turkey's progressive techniques and state-of-the-art dental labs, materials make the real difference. Each dental clinic in Turkey — using an exceptional combination of science and artistry — offers these smile makeovers at a fraction of the cost of their European counterparts and the best materials across the globe.
Cosmetic Dentistry Experts in Turkey —
VisitandCare.com provider Udent in Istanbul — long established as a leading promoter of dental tourism abroad — has created a succession of dental treatments with a singular and compelling vision. With a remarkable story behind its development, Udent is unconstrained by limitations and beholds a commitment to progressive dentistry. The staff and clinic are effusively compliant with the guidelines for cleanliness, safety, and infection control. This ultra-modern clinic is certified to provide patients with a bright white, Hollywood smile in a quick, easy and pain-free procedure.
"At VisitandCare.com we're constantly pushing the boundaries of medical tourism, and we strive to work with innovative providers, like Udent and Cosmetic Dentistry of Istanbul, who hold similar ingenious values," states Tolga Umar, CEO and Founder of VisitandCare.com. "Our ongoing commitment to medical tourism in Turkey defies convention and invites patients to experience medical treatments in an unexpected way."
Another streamlined Turkish dentistry in Istanbul, Cosmetic Dentistry Centre of Istanbul, is a master of dental medicine and is devotedly concerned with ensuring that each patient gets the right treatment for each unique case. As an elite VisitandCare.com partnered provider, the center is a full-scale dental practice that sets the benchmark for dental care, skill, cutting-edge technology and attention to detail. The clinic is also renowned as one of Istanbul's leading implant dentistry centers.
Access to the Perfect Smile —
With Middle Eastern patients traveling to Turkey to obtain the perfect Hollywood smile, dental surgeons provide a gentle touch, a conservative approach and stunning results. Nonetheless, what sets dental practices in Turkey apart from other dental clinics?

High Standards | Dental clinics in Turkey place extraordinary value on a high standard of excellence in dental care, enabling providers to offer patients comprehensive treatment planning and restorative and cosmetic dentistry to achieve optimal dental health.
Training and Expertise | In order to offer the highest standard of services, dental clinics in Turkey are committed to continuing education and training. Each clinics beholds a diverse array of professionals, who specialize in various areas of dental health — keeping each clinic on the leading-edge of techniques, the latest products, and the up-to-date equipment to provide world-class dental care.
A Positive Experience | Dental clinics in Turkey firmly believe that building a foundation of trust is vital to success. The exclusive dental partners of VisitandCare.com understand how uneasy some patients may feel about dental visits, and truly want to make a difference in providing a comforting and positive experience.
Uncompromising Safety | The utmost goal for Turkish dental centers is to provide patients not only a safe environment to travel to but also uncompromising safety inside the dental clinics. Turkey strictly maintains sterilization and cross contamination processes using standards recommended by expert dental associations.
Turkey is committed to providing you with the best treatment options available in dentistry today. The combination of high-class dental programs, trained teams of highly sought after dental specialists, and state-of-the-art dental technology offers patients access to the perfect smile. Through the launch of innovative comprehensive smile makeover treatments, dental clinics in Turkey hope to help patients realize their smile destiny.
About VisitandCare.com
VisitandCare.com was created to give individuals worldwide valued direction locating a doctor, obtain free medical treatment quotes, and uncover affordable medical treatments at destinations of their choice. Improving Patients Lives |The company provides access to exclusive doctors and hospitals who specialize in infertility, plastic surgery, cosmetic dentistry, laser eye surgery, orthopedic surgery, hair transplantation, weight loss surgery, heart surgery and cancer care. Patients are matched with devoted multilingual patient facilitators and provided tangible connections to doctors worldwide. Promoting Your Healthcare Brand | For the ultimate connection between the healthcare industry and patients worldwide, the company delivers an unrivaled commitment to create sustained value for medical partners. Contact VisitandCare.com to see if you are eligible to become a partner of the exclusive network.