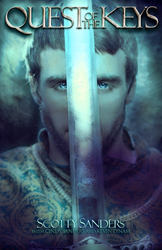 The video game app is a creative way to keep students engaged for a longer period of time beyond the usual eight-week curriculum
Dallas, TX (PRWEB) September 03, 2015
Scotty Sanders, the author of the young adult fantasy book Quest of the Keys, is moving forward with ambitious plans to develop a free video game app based on his book. The novel is currently being used in middle and high school classrooms around the world, and the author hopes the app will help pre-teen and teen readers further engage with the material.
Sanders not only wants teens to enjoy playing through the app, but more importantly, he also envisions a game that will reinforce the self-improvement principles featured in the novel. Quest of the Keys depicts a young man who uses the "Eight Keys of Success" to do battle to an evil slave master, and was written as a leadership development training resource.
"The video game app is a creative way to keep students engaged for a longer period of time beyond the usual eight-week curriculum," said author Scotty Sanders.
Developer Paul Eckhart will design the video game app; Eckhart previously contracted with Sanders to produce the book's video trailer and character poster series. Additionally, Eckhart and Sanders have hosted an ongoing focus group of pre-teens and teenagers to help brainstorm engaging content for the app.
"I'm excited to be designing a game in which the more critical thinking skills you have, the more you'll win," Eckhart said.
Sanders is aiming to release the app in June 2016 so that teachers can incorporate it into their classroom curriculum for that school year. Although those teachers and their students will be the first users to pilot the app, it will also be made widely available to the public.
While the app is in development, Sanders will create a not-for-profit organization based on his novel. The Quest of the Keys Organization's future advisory board is already in place, and Sanders' team believes the app will help accomplish their mission statement, "Empowering the next generation."
About Quest of the Keys
Quest of the Keys is a story for young readers that is not only engaging, but also encourages young readers to become leaders in their own right, and begin their own "quest" toward future success. Author Scotty Sanders has 30 years of experience in entrepreneurship and business leadership. To learn more, visit questofthekeys.com