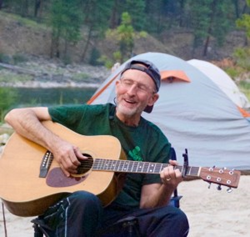 "My river vacation was brought to a whole new level with John Smith playing music in the evenings, at a scenic waterfall or a morning lullaby" W. Durant, past MFRE guest
STANLEY, Idaho (PRWEB) October 30, 2018
In 2015 MFRE began offering professional musician trips to our offerings. The result has been amazing. The guests, musicians and MFRE guides all agree that these trips are the best, as there is a way music can connect the group to nature and the canyon itself, not to mention the "tribe" that is formed through music. We have 13 Music trips offered in 2019.
How do they work? – All musicians have their different style and personality, of course. Musicians play each evening around the campfire, but also at scenic grottos, waterfalls along the way, and even while soaking in a hot spring. It is up to the musician when and where they want to play but it is always coordinated with the MFRE Expedition Leader. No other rafting company has the breadth of musical offerings that Middle Fork River Expeditions has. Simply put, MFRE is taking music around the campfire to a whole new level.
The Middle Fork of the Salmon River is the premier wilderness rafting trip in the US. It's gin clear water flows 100 miles of Wild and Scenic free-flowing river, through the largest roadless wilderness area in the US and in a canyon that is deeper than the Grand Canyon. It has half a dozen natural hot springs throughout the canyon, blue ribbon trout fishing, and more than 100+ rapids grade I-III (IV in June). The Middle Fork of the Salmon is an unspoiled, remote and pristine wilderness much as it was 100 years ago or more. Named by National Geographic as one of the top 3 river trips in the world, the Middle Fork will provide you with a vacation of a lifetime.
Middle Fork River Expeditions has been in business for over 60 years and that is no coincidence. MFRE was chosen as one of the top 3 river outfitters in the world by National Geographic Adventure magazine in 2008 and 2009. We focus on our guests experience to not just see the river from a distance, but to experience it intimately with the leadership of experienced guides. With over 70% of our guests as past clients or referrals from past river travellers we guarantee a world-class river adventure. Our mission is to allow river travellers the opportunity to unplug from modern society and reconnect to oneself, family, and friends through nature's lens. This adventure allows you to have a digital detox from technology and reconnect to a more simple and fulfilling pace of life. There is no Wi- Fi in the wilderness, but we promise you will find a much deeper connection.
Our equipment is specially designed for wilderness whitewater rafting, and offers mild and wild boat choices (oar boats, paddle boats, inflatable kayaks and stand up paddle boards). Our river guides are seasoned professionals, licensed by the state of Idaho and First Aid and Swiftwater Rescue Certified. They are expert river runners, magnificent cooks, great storytellers, and knowledgeable, helpful out-doorsmen and friends.
Join Middle Fork River Expeditions for a magical musical river vacation this summer!