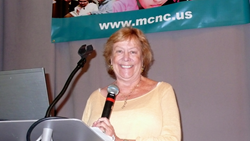 This year's Winter Leadership Conference successfully focused on the complex issues of implementing the Common Core and collaboration among high school and college staff in dual enrollment schools.
New York, New York (PRWEB) March 04, 2014
According to Dr. Cecilia L. Cunningham, founder and Director of the Middle College National Consortium (MCNC), the 22nd annual MCNC Winter Leadership Conference successfully met its goal of helping school leaders gather additional tools to assist them in implementing the Common Core State Standards (CCSS). Dr. Cunningham also noted that school leaders participated in workshops that helped them get insights into methods for improving collaboration with their college partners.
The conference keynote address was given by David T. Conley, Professor of Educational Policy and Leadership at the University of Oregon. Professor Conley spoke to the complexity of meeting the standards of the Common Core. He shared the importance of addressing this challenge by understanding the goals of the Common Core, which is to have students be more successful in moving through school and go beyond in their education. He highlighted the unique nature of each student and need to reach out to that student by appealing to his/her interests and goals in order to develop persistence to meet the new standards.
Following Professor Conley with a series of workshops on literacy and mathematics were two leading staff developers, Lance Ozier and Jonathan Katz, from the Institute for Student Achievement/Education Testing Service. They emphasized that as the CCSS continues to make demands to include literacy across the content areas, it's important to understand the elements of teaching and learning these new standards require. Workshops featured opportunities for participants to experience CCSS aligned activities and also strategies to build students' argument skills using a variety of texts as sources of evidence. Ozier and Katz emphasized that equally as important as the academic component of implementing the CCSS are the non-cognitive factors such as persistence, self-control, curiosity and self-confidence.
Finally, the National Center for Restructuring Education, Schools and Teaching (NCREST) of Teachers College, Columbia University ran a series of sessions. Drawing on school data and recent research, they structured interactive sessions around the four MCNC design pillars, Academic Program, Student Support, Professional Development and Collaborative Relationships (between colleges and high schools). These sessions focused on sequencing the selection of college courses for high school students, encouraging student initiative, reflecting on college partnerships and strengthening school improvement plans.
Middle College National Consortium, headquartered in New York City, is a leader in the movement to establish and sustain high school/college dual enrollment as a viable and necessary educational model. Additionally, MCNC is dedicated to developing and sustaining small schools in which high school students, especially those who have been previously underserved by their former schools, can earn both a high school diploma and either an associate's degree or transferable college credits upon graduation.
To learn more about the Middle College National Consortium, visit us at (http://www.mcnc.us/) for a comprehensive overview of our history, design principles, current work and achievements.
Contact information:
Tony Hoffmann
Middle College National Consortium
O. 718-361-1981 X6
THoffmann(at)mcnc(dot)us