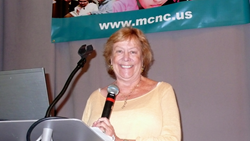 The Student Leadership Initiative is a unique program to develop and promote student voice within the community.
New York, New York (PRWEB) March 12, 2014
Middle College National Consortium is proud to announce that the keynote address at the 2014 MCNC Student Leadership Initiative Conference will be delivered by distinguished US Congressional Representative Donna Edwards. Congresswoman Edwards will deliver her remarks at the Prince George County Community College on Wednesday, April 30, 2014.
According to Dr. Cecilia L. Cunningham, Director and founder of MCNC, "The Student Leadership Initiative is a unique program to develop and promote student voice within the community." Each year, selected students from across the nation in MCNC member schools engage in an eight-month project arising from an environmental or social justice issue. Students use social media to discuss and build programs that educate and engage their schools and communities in focused social action. Students capture their success in presentations, which they share at a four-day conference.
This year's conference, hosted by Academy of Health Sciences in Prince George County, MD, will take place in and around Washington, D.C. According to Terry Born, the conference director, "Students will split their activities between issues of social equity in their communities and a full court press on D.C. legislators to increase spending on dual credit opportunities for all, passage of bills to make Pell Grants available for dual credit students, and increasing funding for Fast Track to College."
Congresswoman Edwards, a Democrat, has served in Congress since 2008. She was the first African-American woman to represent Maryland in the US Congress. Ms. Edwards is a long time supporter of social justice issues, having served as the first executive director of the National Network to End Domestic Violence, an advocacy and legal support group for battered women. She worked to pass the 1994 Violence Against Women Act. Currently, she is actively at work on issues such as the repeal of Citizens United, the increase of the minimum wage for all workers in Maryland, and the expansion of STEM (Science, Technology, Engineering and Math) for high school students.
Middle College National Consortium, headquartered in New York City, is a leader in the movement to establish and sustain high school/college dual enrollment as a viable and necessary educational model. Additionally, MCNC is dedicated to developing and sustaining small schools in which high school students, especially those who have been previously underserved by their former schools, can earn both a high school diploma and either an associate's degree or transferable college credits upon graduation.
To learn more about the Middle College National Consortium, visit us at (http://www.mcnc.us/) for a comprehensive overview of our history, design principles, current work and achievements.
Contact information:
Tony Hoffmann
Middle College National Consortium
O. 718-361-1981 X6
THoffmann(at)mcnc(dot)us