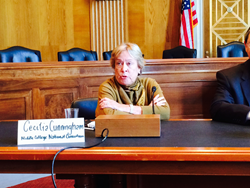 Data demonstrates that 94% of MCNC students are mastering college classes with As and Bs and that Dual Enrollment is a viable alternative to standardized testing.
New York, New York (PRWEB) May 20, 2014
Middle College National Consortium (MCNC) and the Academy of Health Sciences at Prince George County Community College hosted the MCNC's 21st Student Leadership Conference in the Washington, DC area from April 30-May 4. One hundred forty four students and over thirty educators met in collaboration with leaders from the National Alliance of Concurrent Enrollment Partnerships (NACEP), Jobs for the Future and Bard Early College in an effort to gain Congressional support for Early College and Dual Enrollment programs nationwide. Students, ages 15-18, from seventeen MCNC affiliated schools encompassing nine states met with their congressional representatives and their legislative staffs to lobby for funding of dual enrollment programs. They also attended a briefing sponsored by Senator Chris Koons (DE) and a NACEP seminar in support of expansion of Pell Grants.
Students at the conference worked on local projects centered on themes of Social Justice. Many chose to examine the relationship between education and social equity, while others shared their research and work on bullying, racial profiling, youth violence, human trafficking and environmental justice. The conference participants visited Congress, gave soapbox speeches on the steps of the Capitol, visited the Newseum, the Holocaust Museum and many monuments.
After six months of research these same students had much to say about the financial savings Middle/Early College and dual enrollment programs have had for them, their families, and other students who attend Middle/Early College high schools. They spoke eloquently to the point that having successfully navigated the rigors and complexity of college, while in high school, they often avoided the need for remediation in college and are more likely to go to, and graduate from, college.
Dr. Cecilia Cunningham, founder and Director of MCNC, spoke at the Senator Koons briefing. She stated that "Data demonstrates that 94% of MCNC students are mastering college classes with As and Bs and that Dual Enrollment is a viable alternative to standardized testing." She further noted that "Standardized testing is a barrier that denies access to college for many underserved students." Toria Hawkins, an 11th grader from Academy of Health Sciences and Perla Lopez, a recent immigrant, currently at International High School in LIC, NY both presented their stories at different forums attesting to the challenges and benefits they have experienced at their respective schools.
Middle College National Consortium, headquartered in New York City, is a leader in the movement to establish and sustain high school/college dual enrollment as a viable and necessary educational model. Additionally, MCNC is dedicated to developing and sustaining small schools in which high school students, especially those who have been previously underserved by their former schools, can earn both a high school diploma and either an associate's degree or transferable college credits upon graduation.
To learn more about the Middle College National Consortium, visit us at (http://www.mcnc.us/) for a comprehensive overview of our history, design principles, current work and achievements.
For more information about the MCNC Student Leadership Conference, contact:
Terry Born:
917 209 8358.
Tborn(at)mcnc(dot)us