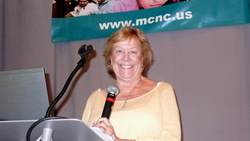 The Michigan schools came to the conference with a zeal to learn and a dedication to helping their students that surely will translate into improved outcomes.
New York, New York (PRWEB) July 15, 2014
A record 240 attendees from over fifty five high schools, school districts and colleges came together last week for a professional development opportunity that focused on STEM Middle Early College Partnership as well as The Common Core State Standards. The keynote speaker, Dr. Christopher Emdin, Associate Professor, Science Education, Teachers college, Columbia University, electrified the institute attendees by delivering a stem winder of a speech imploring the assembled educators to recognize the imperative of bridging the cultural differences that minority students face when entering a classroom. Dr. Emdin spoke to the necessity of bringing minority students into the conversation. He emphasized that once minority students are in the conversation they will make the connection with a college going culture and a STEM education. Dr. Emdin recounted how he made connections with students through the Hip Hop culture, using poetry and rap battles to engage students.
Following a question and answer session with Dr. Emdin conference attendees had the opportunity to choose from among forty-five workshops given over a period of three days. There were workshops on literacy, mathematics, science, STEM education, robotics, student support, enhancing college partnerships, infusing the common core into the curriculum, dealing with crises, students living in poverty, and strengthening a school's college going culture, to name a few. During the afternoons time was set aside for school teams to meet, debrief, plan for the upcoming school year, and share information accumulated at workshops.
Preceding the conference by one day was a special orientation for the Michigan schools that are part of a five year prestigious I3 federal grant that MCNC has been awarded in partnership with NCREST, Teachers College and Jobs for the Future. During the orientation session there was a focused look at what is STEM Early College and what are the goals and outcomes we should be looking for. According to Dr. Cecilia Cunningham, founder and director of MCNC, "The Michigan schools came to the conference with a zeal to learn and a dedication to helping their students that surely will translate into improved outcomes". The conference ended with serious conversations among participants on how they can translate what they learned into action in their classrooms, schools and districts.
Middle College National Consortium, headquartered in New York City, is a leader in the movement to establish and sustain high school/college dual enrollment as a viable and necessary educational model. Additionally, MCNC is dedicated to developing and sustaining small schools in which high school students, especially those who have been previously underserved by their former schools, can earn both a high school diploma and either an associate's degree or transferable college credits upon graduation.
To learn more about the Middle College National Consortium, visit us for a comprehensive overview of our history, design principles, current work and achievements.
Contact information:
Tony Hoffmann
Middle College National Consortium
O. 718-361-1981 X6
THoffmann(at)mcnc(dot)us