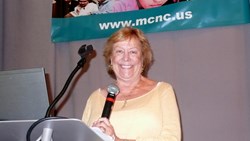 Given that Middle/Early College High School students graduate at significantly higher rates than their peers the federal government should support these schools with the minimally more funds they require to provide a first class education.
Long Island City, NY (PRWEB) January 30, 2014
Students at Middle College High School at LaGuardia Community College in Long Island City, Queens have initiated a petition to the Obama Administration for increased funding for Early, Middle College and Dual Enrollment programs for high school students. This effort is being conducted in conjunction with efforts underway by MCNC schools across the nation to lobby for federal support of higher education opportunities for underserved youth that will take place at the 2014 MCNC Student Leadership Conference, April 30- May 4 in Washington, DC. Approximately 200 students representing 14 states and 23 Early and Middle College high schools will meet with representatives from Congress to plead their case.
The petition states:
"Increase funding for Middle and Early College High School Programs across the United States".
The students of MCHS in Long Island City, NY & Middle College National Consortium Student Leadership Conference ask for an increase in funding for Middle and Early College High School Programs.
In 2009, "the four year graduation rate for Early College schools for 2008 was approximately 92%. Education Week's 'Diplomas Count 2009" identified a national graduation rate for 2005-06 at 69%" (Jobs For The Future).
The goal is 100,000 signatures by February 14th. You can sign the petition and publicize it to potential supporters by going to the following petition site.
Middle College National Consortium, headquartered in New York City, is a leader in the movement to establish and sustain high school/college dual enrollment as a viable and necessary educational model. Additionally, MCNC is dedicated to developing and sustaining small schools in which high school students, especially those who have been previously underserved by their former schools, can earn both a high school diploma and either an associate's degree or transferable college credits upon graduation.
To learn more about the Middle College National Consortium, visit us at (http://www.mcnc.us/) for a comprehensive overview of our history, design principles, current work and achievements.
Contact information:
Tony Hoffmann
Middle College National Consortium
O. 718-361-1981 X6
THoffmann(at)mcnc(dot)us