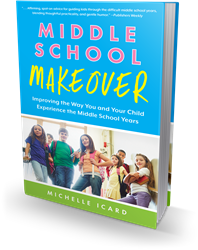 I wanted parents to celebrate this important developmental change for kids, not dread it.
Boston, MA (PRWEB) May 13, 2014
Bibliomotion, books + media is pleased to present their last (but not least!) title of the Spring 2014 season: Middle School Makeover by Michelle Icard.
Middle School Makeover is the essential guide for parents and educators, to help the tweens in their lives navigate the middle school years. Michelle addresses a range of issues (from social media, to bullying, to dating) to help us understand what is happening in the brains of tweens and how these neurological developments affect decision-making and questions around identity.
What inspired you to write Middle School Makeover?
MI: I've worked with middle schoolers and their parents for over ten years, and I do a lot of public speaking on the subject of making the middle school years better for kids, parents, and teachers. Even as my own kids were entering middle school, I listened to the conversations happening around me and they were so negative. People say things like "I am dreading middle school" or "we just have to get through these next few years". I felt badly about that. I wanted parents to celebrate this important developmental change for kids, not dread it.
People would often ask me after my talks when I was going to write a book. "Someday I'll find time" was about all I could manage. Eventually, I pushed aside other projects, carved out the time, and made myself sit down and write. I'm so glad I did. I hope the book will connect me with a much larger audience than I can reach through speaking events, because I think changing the lens on how we view middle school will make a lot of kids, and the adults who love them, happier.
What was your favorite part of the writing and publishing process?
MI: My favorite part of the writing process was getting in a zone and losing track of time. Some days, I would drop my kids off at school, get my Starbucks, and then come home to sit for six or seven hours straight in a comfy chair I have next to my fireplace. I'd set an alarm on my phone so I wouldn't forget about pick up! By the end of those long writing sprees I felt simultaneously exhausted and gratified. My brain and back would hurt, but it felt great to read back over my words. Sometimes I would think, I can't believe I wrote that. That sounds good!
My favorite part of the publishing process was being accepted by Bibliomotion. I felt like they really got me and my audience. This is followed closely by getting a starred review in Publishers Weekly.
Who do you hope reads your book? What do you want them to get from it?
MI: I hope parents will grab onto my book early. It's about middle school, of course, but the earlier parents prepare themselves for the transition, the more smoothly it will go. I'm particularly hoping to help parents who had a hard time in middle school themselves. I'd like for them to be inspired by my book that middle school can be terrific for their kids.
Who was your #1 influencer for your work?
MI: Personally, my husband. I couldn't have partnered with a more supportive guy and he gives me a great deal of the emotional encouragement and freedom that entrepreneurs need. Professionally, I couldn't pick just one. I love the work of Michael Thompson, Lenore Skenazy, and Rosalind Wiseman to name a few.
What are you reading right now?
MI: I have a couple of books going that are related to work. I'm listening to the audio book of It's Complicated: The Social Lives of Networked Teens by Danah Boyd and reading Brainstorm: The Power and Purpose of the Teenage Brain by Daniel Siegel. For my book club, I just finished A Constellation of Vital Phenomenon. We all agreed it was terrific!
About Middle School Makeover:
Middle School Makeover is a guide for parents and educators to help the tweens in their lives navigate the socially fraught hallways, gyms, and cafeterias of middle school. The book helps parents, teachers, and other adults in middle school settings to understand the social dilemmas and other issues that kids today face. Author Michelle Icard covers a large range of topics, beginning with helping us understand what is happening in the brains of tweens and how these neurological development affects decision-making and questions around identity. She also addresses social media, dating, and peer exclusion. Using both recent research and her personal, extensive experience working with middle-school-aged kids and their parents, Icard offers readers concrete and practical advice for guiding children through this chaotic developmental stage while also building their confidence.
About Michelle Icard:
Author, educator, and social leadership strategist, Michelle Icard creates emotional relief for t(w)eens, parents, and educators by providing clear wisdom and pragmatic tools that ease stress and create connection. In 2004, Michelle Icard launched Athena's Path, a curriculum that helps girls navigate the tricky middle school social scene. Shortly after, she added Hero's Pursuit for boys, and in 2011 launched her website about how to parent middle school children: MichelleintheMiddle.com.
Athena's Path & Hero's Pursuit have been implemented in thirty schools, in five states, and have impacted over 10,000 students. Over 250 teachers have been trained to implement the programs in schools. Michelle regularly speaks at schools and parenting events around the country and hosts Right in the Middle, a conference for girls headed to middle school and their moms. She has also written curriculum for other national programs for adolescents, including Girlology and Girls Rock the House. In addition to her own blog, Michelle writes for Your Teen Magazine, The Karina Chronicles, and Charlotte Smarty Pants. She lives in Charlotte, NC with her husband, 13-year-old daughter, and 11-year-old son.
About Bibliomotion, books + media:
Bibliomotion is a book publishing house designed for the new publishing landscape. While many publishers work to retrofit old processes for new realities, Bibliomotion was founded by book-industry veterans who believe the best approach is a fresh one – one that focuses on empowering authors and serving readers above all else. Moving away from the top-down model that has dominated the publishing process for years, we give each member of the team – including the author – a seat at the table from the very beginning and in doing so, work side-by-side to launch and sell the best content possible, making it available in a variety of forms.