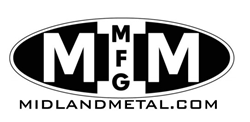 The catalog makes our whole offering easily accessible to our customers and reps, and as a company, that's really what we strive for – to make things easier for our customers.
Kansas City, MO (PRWEB) December 09, 2015
Midland Metal Mfg., a national supplier of stainless steel and brass fittings, valves, and accessories announced the release of their 2016 catalog. This is the sixteenth consecutive year Midland Metal has released a new catalog and the second catalog they have released since merging the plumbing and industrial arms of the business. Highlights of this year's catalog include lower pricing on certain lines of valves, flare fittings, and nipples as well as expanded offerings in valves, cam and groove fittings, and pneumatics.
"This is the biggest catalog we've ever released. I'm especially excited about all the new and expanded lines, like the cam and groove and hose accessories," said Midland Metal's National Sales Manager, Brett Powell. "We really listened to our customers as we decided which lines to expand. Cam and groove stood out as a lot of our customers were carrying full lines, but were having a tough time finding competitive pricing."
In addition to the cam and groove expansion, Midland added more hose fittings and accessories, a wider selection of lead free fittings, including chrome-plated and bronze fittings, and more pressure and water test gauges. Other additions to Midland's line for 2016 include new lead free valves, pneumatic and electric actuator valves and freeze tolerant full port ball valves – a line of valves specially designed and built to withstand harsh weather and temperatures.
"Releasing a catalog on an annual basis really gives us the chance to take a look at our entire offering. We get a sense of what's doing well, what are some opportunities we should look further into, and where can we change in order to improve our customers' workflow and profitability," Midland Metal CEO and President, Vince Hodes, replied when asked about the yearly catalog.
This year's version of the Midland Metal catalog includes reduced prices on inverted flare fittings, schedule 80 extra heavy steel nipples, and both lead free and gas ball valves. "I love being able to go to customers and let them know about reduced prices. We work hard at keeping costs low so our customers can improve their margins," Powell added.
Midland Metal's Chief Marketing Officer and Vice President Billy Hodes pointed out that printing and distributing the catalog for free is Midland's single biggest marketing cost each year. "It's worth every penny to us. It provides our customers with a tool they can use to both buy and sell. The catalog makes our whole offering easily accessible to our customers and reps, and as a company, that's really what we strive for – to make things easier for our customers."
Midland Metal's complete product offering can be found on their website, http://www.midlandmetal.com.
Midland Metal Mfg. supplies brass fittings, ball valves, steel nipples, malleable iron fittings, red brass, bronze, stainless steel and forged steel fittings and nipples, as well as flanges, hydraulic and pneumatic fittings and accessories, pressure gauges, hose clamps, and much more. Based in Kansas City, Missouri, they also have stocking locations in California, Georgia, and Texas. Led by President Vince Hodes since 1999, Midland has been family owned and operated since 1980.
For more information, please use the contact form on the Midland website, call 888-821-5725, or email sales(at)midlandindustrial(dot)com.