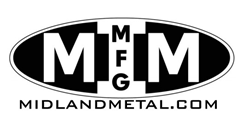 We know the best marketing force out there is a happy and successful customer base. The best way to grow our business is by growing the businesses of our customers.
Kansas City, MO (PRWEB) October 30, 2015
Midland Metal, a supplier of brass and stainless steel fittings, valves and clamps, officially launched Your Brand is Our Brand, a program providing branding and marketing tools to its customers. The marketing tool kit provides industrial distributors the tools necessary to build their own brands while providing their own customers with value-added services. The launch of the program emphasizes Midland's own focus on growing its business by growing the businesses of its customers.
Your Brand is Our Brand Is comprised of six elements: Midland Engineering Solutions Services, Order Builder, Bin Labels on Demand, Private Labeling, Custom Catalog, and Free Warehousing. Each of the services is focused on helping distributors jump start growth with little to no upfront investment. Midland Metal's CEO, Vince Hodes, explained the thinking behind YBIOB. "We know the best marketing force out there is a happy and successful customer base. The best way to grow our business is by growing the businesses of our customers."
Midland Engineering Solutions Services (M.E.S.S.) gives distributors a chance to solve its customers' problems. Midland General Manager Pat Valdivia came up with the idea for M.E.S.S. when a distributor forwarded a customer complaint to him. "The distributor's customer maintenance team was was having trouble with the CO2 fill boxes for the beverage systems. He asked if we could improve on the design to be more time and cost effective. I went over it with our engineers and we developed three new model fill boxes that made our distributor look like a hero." Valdivia quickly realized this was a service that many other distributors and their customers could use. He brought it to the marketing team to help make it available.
Midland Metal developed the first version of its own mobile app in 2012. Since then the app has undergone improvements that allow Midland's customers to check inventory, scan parts to their shopping cart, and interface with their online accounts. For the YBIOB program, Midland launched a white label version of its app as Order Builder. Order Builder allows distributors to provide their own customers with all the benefits of the Midland app, without any reference to Midland Metal.
The Bin Labels on Demand program complements the Midland and Order Builder apps. Through Midland Metal's online customer management platform, Account Manager, distributors can design and print custom bin labels, with custom part numbers, for their customers. The labels print with bar codes that can be scanned using the Midland or Order Builder app to build orders. "The bin labels and the apps are perfect for our customers that are providing vendor managed inventory services to their customers," said Brett Powell, Midland Metal's National Sales Manager.
"We look at Private Labeling as the next level of our customer branding program. It really changes the way our customers are perceived by their customers," said Billy Hodes, Midland Metal's Executive Vice President and Chief Marketing Officer. Distributors can get their own name or logo printed on fittings and valves. Private labeling requires a minimum order quantity.
The Custom Catalog program is designed to give the distributor a full-sized paper catalog, branded with the distributor's name, logo, website, address and contact information. The catalog is for distributors to give out to their customers – providing the distributor a low cost way to expand their product offering and capture greater shares of customers' total buying.
Free Warehousing aims for the same results of the Custom Catalog program, that is, an expanded product offering and larger share of customers' business. Midland Metal ships products to distributors' customers directly, with distributor's letterhead on the packing slips and white labels on the boxes. Free Warehousing allows a distributor to instantly expand product offering and decrease overhead and handling at no cost.
"We're very excited for the launch of the Your Brand is Our Brand program," Billy Hodes concluded. "We really see it as indicative of what we do for our own customers. We really focus on making them look good and flourish. We see that as our only path to success."
Midland Metal Mfg. supplies brass fittings, ball valves, steel nipples, malleable iron fittings, red brass, bronze, stainless steel and forged steel fittings and nipples, as well as flanges, hydraulic and pneumatic fittings and accessories, pressure gauges, hose clamps, and much more. Based in Kansas City, Missouri, they also have stocking locations in California, Georgia, and Texas. Led by President Vince Hodes since 1999, Midland has been family owned and operated since 1980.
For more information, please use the contact form on the Midland website, call 888-821-5725, or email sales(at)midlandindustrial(dot)com.