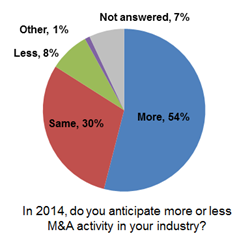 We believe the bear cycle in midmarket M&A is coming to an end.
McLean, VA (PRWEB) February 19, 2014
Capstone Strategic surveyed 75 midmarket executives from multiple industries on their growth and M&A outlook for 2014. The survey was conducted in December 2013.
More than half of the respondents (54%) expect increased M&A activity in their industry in 2014. An even higher number (63%) expressed interest in pursuing M&A in 2014.
The predicted rise in M&A activity exceeds expectations for the overall economic environment. Most midmarket executives polled anticipate flat or moderate economic growth, and 59% are concerned about the political and regulatory environment, including effects of the Affordable Care Act.
David Braun, Capstone's founder and CEO, noted: "We believe the bear cycle in midmarket M&A is coming to an end. Despite an uneasy environment, there is pent up demand for acquisitions as companies continue to experience anemic organic growth. They can't continue doing more of the same."
Supporting this interpretation, only 5% of respondents expressed satisfaction with their current level of growth.
While midmarket executives seem to be taking renewed interest in M&A, they perceive hurdles to embracing external growth. 54% see their largest challenge as assembling sufficient resources.
28% report that they are concerned about the lack of suitable companies to purchase. About this Braun said: "In Capstone's experience, this belief usually arises from only considering companies that are offered for sale: once the universe of possible acquisitions is expanded to include not-for-sale entities, suitable candidates can almost always be found. In reality, every company is for sale for the right equation."
Based on its survey, and firsthand contacts with the market, Capstone predicts an overall rise in M&A activity in the midmarket sector. Braun's advice to executives is to seize the opportunities inherent in the new trend, or risk being left behind. He said: "External growth can mean many things, and 100% acquisition is only one option. The key is to be creative, seek good advice from experienced practitioners, and look for new ways to grow by engagement with other companies."
The full survey, State of Midmarket M&A 2014, can be viewed by clicking here.
About Capstone Strategic, Inc.
Capstone is a management consulting firm located outside of Washington DC specializing in corporate growth strategies, primarily Mergers & Acquisitions. Founded in 1995 by CEO David Braun, Capstone has facilitated over $1 billion of successful transactions in a wide variety of manufacturing and service industries. Capstone utilizes a proprietary process to provide tailored services to clients in a broad range of domestic and international markets. For more information about Capstone and its growth strategy and advisory capabilities, please visit http://www.CapstoneStrategic.com. For timely commentary and insights into the M&A market, please visit the Successful Acquisitions blog at http://www.SuccessfulAcquisitions.net. Capstone can also be reached at 703.854.1910 or Growth(at)CapstoneStrategic(dot)com