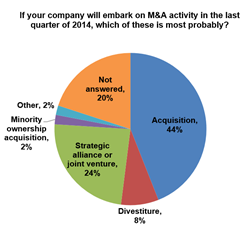 As organic growth opportunities remain modest or stagnant, executives are continuously looking for new ways to grow, including mergers and acquisitions.
McLean, VA (PRWEB) November 14, 2014
Capstone Strategic surveyed midmarket executives from multiple industries to learn how the first nine months of 2014 matched expectations from 2013, and to indicate any new trends in midmarket M&A. The survey was conducted in October 2014, and follows a similar survey conducted in December of 2013.
Midmarket M&A activity continued to increase despite economic uncertainty. More than half of the respondents (60%) engaged in M&A or external growth activities in 2014 and 44% are considering M&A in the last quarter of 2014.
Of the midmarket executives polled, 64% reported "modest growth" in their industries compared to 62% in 2013. "High growth" responses dropped by half from 8% to 4%. Perhaps most significantly, 24% of respondents reported stagnation in 2014, double the amount reported in the same period last year. This holding pattern may indicate continued anxiety about the economy, the political environment and government regulation.
David Braun, Capstone's founder and CEO, noted, "As organic growth opportunities remain modest or stagnant, executives are continuously looking for new ways to grow, including mergers and acquisitions."
While midmarket executives seem to be showing a renewed interest in M&A, they acknowledge there are hurdles to embracing external growth. Lack of time, people and money continues to be the greatest barrier to pursuing mergers and acquisitions with over half (52%) reporting insufficient resources as their biggest challenge. Insufficient resources also topped the 2013 chart (54%). 24% of those surveyed also said slow decision-making continues to be a hurdle.
In 2014, the same percentage of executives as in 2013 (28%) reported that they were concerned about the lack of suitable companies to purchase. About this Braun said, "It may be difficult to find suitable companies to acquire among those that are offered for sale. Restricting your search to for-sale opportunities is usually a mistake. At Capstone we encourage clients to expand their search and actively pursue not-for-sale acquisitions."
Based on its survey and firsthand contacts with the market, Capstone predicts the economy will continue to recover, and as it does more midmarket companies will seize on the opportunities presented by external growth. Braun said, "External growth embraces any strategy that leverages a relationship with another company, including strategic alliances, joint ventures, minority interest and acquisitions. When it comes to pursuing an acquisition, here's one principle we've learned from years of experience: They are all for sale…for the right equation."
The full survey, State of Midmarket M&A: Q1-Q3 2014 Update, can be viewed by clicking here.
About Capstone Strategic, Inc.
Capstone is a consulting firm located outside of Washington DC specializing in corporate growth strategies, primarily Mergers & Acquisitions. Founded in 1995 by CEO David Braun, Capstone has facilitated over $1 billion of successful transactions in a wide variety of manufacturing and service industries. Capstone utilizes a proprietary process to provide tailored services to clients in a broad range of domestic and international markets. For more information about Capstone and its growth strategy and advisory capabilities, please visit http://www.CapstoneStrategic.com. For timely commentary and insights into the M&A market, please visit the Successful Acquisitions blog at http://www.SuccessfulAcquisitions.net. Capstone can also be reached at 703.854.1910 or Growth(at)CapstoneStrategic(dot)com.
###