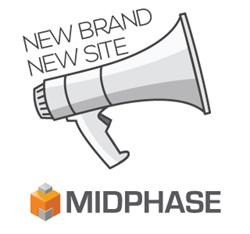 This site elevates beyond hosting slang, sales info and a buy button.
Salt Lake City, Utah (PRWEB) October 24, 2013
Top Web host Midphase has launched its new website in a redesign distilling its cores values into an aesthetically modern and functional design. The new face of Midphase is based on the results of extensive user testing that Midphase used to create an experience where customers can easily find what they need to become successful online. Simple and logical designs guide users to each product efficiently and, more than ever, make getting a website easy.
"This site elevates beyond hosting slang, sales info and a buy button," said Casey Bell, head of design at Midphase. "It's a reflection of the company's mindset to make Web hosting easy for people. The website is an extension of who we are and what we're about."
With mobile trends growing, the new Midphase site is built to handle mobile and desktop viewing responsively; adapting automatically to the size of the users' screen so they can accomplish their hosting needs from any device. Midphase also defined their brand with a new logo including thematic and creative styles.
At a higher level, Midphase began rolling out an enhancement to some of their core values by adding a new culture code, called "Mpowered," which encourages staff and customers to build upon their capabilities and innovate through work, learning and experimentation.
In addition to front-facing style changes, Midphase also included product updates with an entire new lineup of dedicated servers, among other core features that enhance user experience. The new range of servers, built on their on-demand platform, is capable of delivering servers in just 15 minutes and offers customers high-spec hardware out of their enterprise level data center. Suited to business owners who need maximum power and uptime, the product line represents another step for a company that refuses to stop pushing forward.
"It's an exciting time to be a Midphase customer," said marketing director, David Anderson. "The new website echoes our extensive experience and highlights the simplicity of getting online. In addition, we've wrapped several new products into the redesign; primarily including our new dedicated server line based on the absolute cutting edge of server technology."
Midphase's values have remained simple but clear through their 15 years of being a Web hosting company. By offering great value Web hosting packages, they make it easy for any and every business to harness the power of the World Wide Web no matter how large or small. With a product range that takes in domain names, Web hosting, cloud hosting, dedicated servers, a website builder and more, customers from all industries and sizes have been able to get what they want from Midphase knowing they will be supported all the way.
ABOUT MIDPHASE
Since 1998, Midphase has provided budget, shared, advanced and other types of Web hosting services to a wide variety of customers ranging from individuals to small businesses. Midphase is a subsidiary of the UK2 Group, a significant player in the European and U.S. Web hosting markets, providing domain registration and affordable website hosting to customers globally. Utilizing state of the art data centers, Midphase is able to provide advanced security and high availability to customers at an affordable price. Midphase is committed to providing reliable, cutting-edge products and services at a great value, underpinned with superior client support. For more information about Midphase, visit http://www.midphase.com.