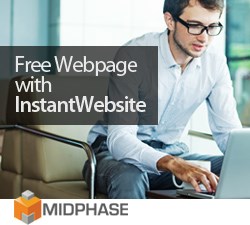 Very few companies are able to offer free hosting with a domain; we are excited to launch this new product that will set us apart from the industry noise.
SALT LAKE CITY, Utah (PRWEB) November 12, 2013
Leading Web host Midphase has just launched InstantWebsite, a powerful new tool that gives all of its domain registration customers the means to quickly and easily create a single page website at no additional cost.
Perhaps the greatest benefit of InstantWebsite is its potential to eliminate the faceless parked domain page with something relevant to the business that registered the domain. Backed by Midphase's website builder, which uses easy drag-and-drop technology, InstantWebsite provides an opportunity to publish an appealing website in minutes and forever avoid the badgering of a site with "coming soon" written all over it.
InstantWebsite offers 10 professionally designed templates to which Midphase customers can add text, images, maps and other features to show off their business online. Combined with their domain name, and the 100MB email account that is also included, businesses will be well-equipped to begin pursuing the online marketplace.
"Choosing a great domain is one of the most exciting and important things a business does on the road to online success," said Sara Cunha-Rego, the director of Web hosting for Midphase. "InstantWebsite provides the boost a business owner needs to jump-start success online and have a presence immediately; without it, however, some lose energy while struggling through the process of getting their idea online."
InstantWebsite is easily set up and managed from within the Midphase control panel. After purchasing a domain name, customers can activate InstantWebsite and easily build their site. If they want to expand the website, or access further features and templates, it is simple to upgrade to the full Website Builder product. With minimal effort, any business can develop a professional website that is uniquely theirs.
"InstantWebsite allows us to take a commoditized product like domains and create a distinct advantage that separates us in the Web hosting marketplace," said David Anderson, the marketing director for Midphase. "Very few companies are able to offer free hosting with a domain; we are excited to launch this new product that will set us apart from the industry noise. InstantWebsite gives our domain customers a simple, professional-looking, website for no additional cost so they can be heard and begin making those vital connections."
The addition of InstantWebsite to their product line furthers Midphase's ability to provide the best value on domain names. With customers able to secure a Web hosting package and domain name at an affordable price, Midphase is providing everything a business needs to succeed online.
ABOUT MIDPHASE
Since 2003, Midphase has provided budget, shared, advanced and other types of Web hosting services to a wide variety of customers ranging from individuals to small businesses. Midphase is a subsidiary of the UK2 Group, a significant player in the European and U.S. Web hosting markets, providing domain registration, affordable website hosting, and dedicated servers to customers globally. Utilizing state of the art data centers, Midphase is able to provide advanced security and high availability to customers at an affordable price. Midphase is committed to providing reliable, cutting-edge products and services at a great value, underpinned with superior client support. For more information about Midphase, visit http://www.Midphase.com.