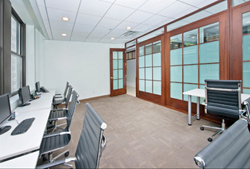 Virtual office space is an affordable alternative to renting traditional office space in Midtown Manhattan, for companies looking to establish themselves within one of the fastest growing cities in America
New York, NY (PRWEB) June 12, 2017
Office space in midtown New York City is increasingly in high demand. Recently the construction boom in Manhattan has seen many more condominium new constructions than office space. Furthermore, office accommodations for small businesses and startups have disproportionately been affected.
Nowadays small business owners and startups are looking for more affordable solutions to renting small offices in New York. Co-working space providers in midtown like Executive Offices of New York (EONY) https://eony.com have created several affordable, virtual office solutions that are priced to help startups and small businesses get established in Manhattan.
Renting virtual office space is an affordable alternative to renting traditional office space, especially in midtown Manhattan. For companies looking to establish themselves within one of the fastest growing cities in America, Executive Offices of NY offers several affordable plans to fit your startup budget. A virtual office allows you to work remotely yet still maintain an accessible setting for in person meetings with clients. The main advantage is the greatly limited overhead of not having to rent a physical office space in midtown Manhattan.
EONY introduces three virtual office space plans to help new companies get a foothold in NYC

Silver plan ($125/mo) - company listed in lobby, mailbox facilities and 24hr key card access
Gold plan for $199/Mo. -- includes 2 free hours of conference room time in addition to all of the features in the silver plan.
Diamond plan for $349/Mo. -- includes 2 free day office rentals in addition to all of the features in the gold plan.
Virtual Offices for Rent with a Prestigious Midtown Manhattan Address
A virtual office service among many, EONY distinguishes itself by its proximity to the amenities of midtown Manhattan. Located at 469 7th Ave between 35th and 36th street, Executive Offices of New York (EONY) provides long-term, temporary, short-term day offices, and midtown Manhattan offices for rent, as well as virtual offices to companies that want to be registered at an address that commands attention. EONY helps small businesses put their best face forward while also helping them save on the costs of getting an actual office rental in NYC. And as a company grows, EONY can help them with affordable office space when they need it.
Small companies can benefit from renting a virtual business address at a NYC zip code that is fully verifiable. By letting virtual tenants taking full advantage of EONY's office and mailbox amenities, EONY virtual office addresses will make it seem as though your company has a prestigious office located right in the heart of New York City. Renting a virtual office also helps tenants avoid signing up for long term rental commitments and the financial risks associated with renting office space in midtown Manhattan, which offsets the added costs of renting valuable commercial real estate
About Executive Offices of New York
Started in 2009 with a combined real estate experience of over 25 years. We developed Executive Offices of New York with a focus on providing superior office solutions to entrepreneurs and fortune 500 companies alike seeking executive office space in Midtown Manhattan. We achieve this through a range of exceptional service, elegantly designed office space, and a dedication to supporting our clients with affordable rent for office space in midtown.
Why Us
Executive offices of New York is A Business center owned and operated by Foremost real estate . Founded in 2004 Foremost Real Estate has developed, owned, and managed over a million square feet of commercial office space in Midtown Manhattan and the surrounding areas. We have leveraged our expertise to provide flexible and dynamic executive office solutions for companies of all sizes. Whether you are looking for turn key office space, a virtual office, coworking space, or a meeting room Executive offices of New York will provide a fully serviced office experience that inspires great productivity.