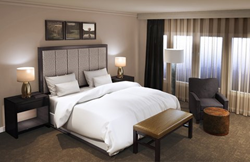 "If you haven't stayed in one of the homes in The Galena Territory, they're a great base for all the activities we have going on this spring," said Thomas Ruhs, General Manager of Eagle Ridge Resort & Spa.
Galena, Ill (PRWEB) March 14, 2017
Eagle Ridge Resort & Spa (http://www.eagleridge.com), managed by The Bricton Group, is embarking on the most exciting phase of its multi-year renovation of the entire resort and spa: a complete refurbishment & modernization of all 80 guest rooms at the Eagle Ridge Inn and Courtyard. While the rooms are under renovation, Eagle Ridge Resort & Spa is offering special rates on the distinctive homes and villas located on the resort grounds now through April 2017.
"If you haven't stayed in one of the homes in The Galena Territory, they're a great base for all the activities we have going on this spring," said Thomas Ruhs, General Manager of Eagle Ridge Resort & Spa. "Hiking, biking and events like the resort's upcoming Easter weekend festivities with two Easter egg hunts, The Easter Bunny, and Easter brunch at Woodlands Restaurant overlooking Lake Galena. (Apr. 14-16)."
As for the guest rooms, Eagle Ridge is committed to keeping the old-world aesthetic of the lodge while modernizing the interiors. Room updates will touch every surface of the guest rooms, including:

New tubs and walk-in showers, bathroom fixtures, tile and counter surfaces
All new furniture, including headboards, chairs, dressers, tables, electronics-ready desks and nightstands. Mini-refrigerators will also be added to each room.
Paint, carpet and window treatments
Luxury bedding, towels, pillows, lighting and art
"The first phase of the renovation was completed in 2015, which included a brand new exterior, modernized lobby and public spaces, 15,000 square feet of IACC-accredited meeting space, and restoring the golf courses to their original playing condition," said Edward Doherty, President of The Bricton Group. "We are excited to now continue the transformation with the guest rooms."
The guest room renovation is expected to be completed by April 2017. A number of guest rooms will continue to be available during the upgrades, and special rates will be offered on the more than 250 villas, townhomes, condos and distinctive homes that are available year-round.
Phase One: Thousands of square feet already renovated

Since Eagle Ridge began its major renovation, the following spaces have been completed:
15,000 square feet of meeting space including a dedicated conference center, specially designated food and beverage service and facilities, carefully calibrated acoustics and lighting, ergonomic furniture, and state-of-the-art technology. The renovation qualified Eagle Ridge as an official member of the prestigious International Association of Conference Centers (IACC).
The entire public space, including the dramatic porte cochere at the property's entrance, the front desk, and lobby was modernized with upscale flooring, lighting, wall color and furniture to create comfortable gathering spaces to eat, drink and socialize around the Eagle Ridge lobby fireplace.
The restaurants at Eagle Ridge were enhanced with modern paint, furniture and flooring as well as state-of-the-art equipment. Spikes restaurant was replaced with a new concept restaurant Woodstone which specializes in wood oven specialties dishes.
Reagan Davis, golf director at Eagle Ridge, oversaw the restoration of 63 holes spanning four championship courses, transforming them back to world-class, challenging and rewarding courses.
The Guest Home Experience
Those who haven't stayed in one of Eagle Ridge's guest homes before will discover large and comfortable spaces that accommodate two to 12 guests. The homes are located within minutes of all Eagle Ridge has to offer, including the main lodge with the pool, spa, restaurants, and the golf courses. Each home includes a kitchen and comfortable living and sleeping spaces. The largest properties are perfect for one or several families, offering up privacy as well as large gathering rooms and eating areas.
Vacation and group meeting packages are always available. Guests can visit http://www.eagleridge.com to view current packages and make reservations, or call (800) 892-2269.
# # #
About Eagle Ridge Resort & Spa
Eagle Ridge Resort & Spa is located 150 miles west of Chicago within The Galena Territory, a 6,800 acre recreational, residential and resort community six miles southeast of the historic town of Galena, Ill. The resort's grounds include 63 holes on four award-winning golf courses, and accommodations that range from quaint Inn rooms to more than 250 villas and distinctive homes. IACC certified, Eagle Ridge Resort & Spa has 15,000 square feet of state-of-the-art meeting space and beautiful conference homes which regularly accommodate corporate groups, banquets and weddings. Other features include award-winning restaurants, the tranquil Stonedrift Spa, and an incredible selection of outdoor activities including miles of skiing, biking, hiking and horseback riding trails, as well as tennis, hot air balloon rides, boating and fishing on the picturesque 225-acre Lake Galena. For reservations or additional information, call (800) 892-2269 or visit http://www.eagleridge.com.
About The Bricton Group
The Bricton Group, based in suburban-Chicago, is one of the leading hotel management groups in the Midwest, operating and managing successful hotel properties for over 25-years. The Bricton Group's undivided attention to success and service in the hospitality industry includes services such as on-site management and operation, hotel business analyses, site evaluations, market demand studies and funding and lending assistance. For more information visit http://www.bricton.com.
Eagle Ridge Resort & Spa
444 Eagle Ridge Drive
Galena, IL 61036
Toll Free: 800-892-2269 Local: 815-777-5000 Fax: 815-777-4502
http://www.eagleridge.com
Click here for images and release