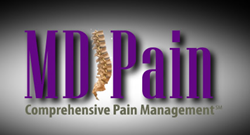 Over 90% of migraine sufferers achieve exceptional relief with the various treatments at MD Pain!
Denver, Colorado (PRWEB) April 06, 2016
Metro Denver Pain Management is now offering over ten effective migraine treatments for exceptional relief. This includes new treatments such as occipital blocks and Botox injections administered by Board Certified physicians. Call (720) 306-9575 for more information and scheduling with migraine specialists Denver trusts.
Migraines affect over ten percent of the population, and frequently lead to lost time from work and significant pain. MD Pain has Board Certified Denver pain management physicians providing both medication management and interventional procedures. Medication options include both preventive and abortive treatments, which can help substantially. Topical medications are also available.
Interventional treatments include trigger point injections, facet blocks, occipital blocks and Botox injections. Botox for migraines is now FDA approved, and is covered by most insurance plans. The treatment takes less than half an hour, and has been shown to significantly reduce both the frequency and severity of migraines.
Occipital blocks have been shown to offer exceptional relief for migraines, with over three fourths of patients achieving success. MD Pain accepts the vast majority of insurance plans.
Along with the top notch migraine therapies, the Denver pain clinic achieves over 90% success for back pain, spinal stenosis, neuropathy, scoliosis pain, RSD, CRPS and more. Call (720) 306-9575 for the top pain management clinic in Denver.