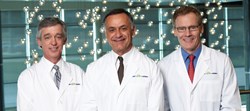 Implantable nerve stimulation was found to be highly successful in over 80% of the patients.
Dallas, TX (PRWEB) August 06, 2013
The recent Congress of the International Headache Society held in Boston was the venue for two new medical reports that documented implantable nerve stimulation migraine treatment to be highly successful in over 80% of patients suffering from severe, chronic migraine headaches.
Dr. Ken Reed of "Reed Migraine Centers" in Dallas, TX explained that similar success rates were found in both the adult and adolescent patient groups. "In a review of 171 consecutive patients with frequent, severe migraines treated for up to three years, we were very pleased to find that 85% of the patients reported good to excellent results," said Dr. Reed. "In fact 50% of the patients reported near complete migraine relief."
The Reed Procedure ®, a migraine treatment technically known as "Combined Supraorbital and Occipital Nerve Stimulation" was first described in a landmark paper published in 2010 in "Cephalalgia," the Journal of the International Headache Society. It received the society's prestigious "Cephalalgia Award" for the best original research contribution to the journal that year. "We were very grateful to the Society for this award, particularly considering the quality of the competition from the top institutions around the world," said Dr. Reed. "It is always very gratifying to have your colleagues recognize the work that you are doing.
Dr. Robert Bulger of the "Southwest Pain Group" in Dallas, TX emphasized that the same remarkable success rate was also found in the adolescent patient group. "We saw dramatic improvement in well over 80% of our teenage patients," said Dr. Bulger. "It is just most gratifying to have our patients come back smiling, as they report their pleasure at returning to their schools, their activities, and to their friends. These kids have their lives back."
A co-author on the current studies, Dr. Sukdeb Datta, at the "Laser Spine and Pain Institute" and Professorial Lecturer at Mt. Sinai Medical Center in New York, explained that the migraine treatment procedure actually involves two steps – the first being a test or trial stimulator, which is very reliable in determining whether, and how well, a patient will respond to the actual full neurostimulator implant. "One of the many nice things about the implantable neurostimulation is that we have the ability to actually test the treatment to indeed make sure that it's going to work, before we perform the full implant," said Dr. Datta. "Our patients are of course very pleased with this, as it allows them to know with great confidence just how well the treatment will work before they have the actual full procedure."
Lauren Smith, Director of Operations and Physician Services for Reed Migraine Centers, indicated that patient information seminars are being scheduled around the country for those who would like more information on the Reed Procedure®. "For those patients who have uncontrolled migraine headaches, I would strongly recommend that they attend one of our seminars and hear Dr. Reed personally discuss the full details of the treatment," said Ms. Smith. "Patients can find the schedule for the upcoming seminars on our website, where they also can find additional information about the Reed Procedure ®."
About Reed Migraine Centers:
Reed Migraine Centers partners with recognized and highly respected pain management physicians to provide individuals who suffer from chronic migraine headaches with access to the most effective migraine treatments available. Reed Migraine Centers offers advanced treatments and minimally invasive procedures, including the International Headache Society's Cephalalgia Award winning Reed Procedure®, to help migraine suffers enjoy a better quality of life. The partner physicians of Reed Migraine Centers continue to engage in pioneering pain management research to find new and more effective ways to control chronic migraine headaches and someday end migraine pain. To learn more about Reed Migraine Center, visit http://www.ReedMigraine.com.
About Neuro Stim Technologies:
Neuro Stim Technologies is a marketing agency specializing in raising the awareness of innovative technologies and advanced procedures that improve the quality of life of those that suffer from chronic pain.