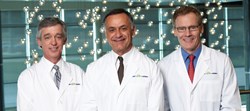 The Reed Procedure gave me my life back.
Dallas, TX (PRWEB) January 31, 2014
Internationally recognized migraine specialist, Dr. Ken Reed, inventor of the Omega and Reed Procedures, will present a webinar on advanced migraine treatments on February 6 at 6 pm CST. The webinar follows Dr. Reed's appearances on Fox & Friends and The Doctors Show.
In 1999, Dr. Reed's study on "Occipital Nerve Stimulation" introduced this treatment method and forever changed the world of headache medicine, as ONS is now offered around the world. In 2009, Dr. Reed's paper on "Combined Neurostimulation for Migraine" received the "Cephalalgia Award" from the International Headache Society as the best original research submission to the journal that year.
"We have seen remarkable results with the Reed Procedure for migraine treatment," Dr. Reed says. "Many patients with debilitating migraine headaches who did not respond to other migraine treatments or therapies now enjoy long-term relief from their migraine pain. We've been tracking patients for over five years now, and they report that they are still seeing these same excellent results."
Nearly 36 million Americans suffer from chronic migraine pain. "Chronic migraines can take a devastating toll on a person's life," Dr. Reed explains. "Often people can't work, they can't enjoy quality time with their families or friends, and they become isolated and depressed. I hope migraine suffers in the New York area will attend this seminar to learn more about the Reed Procedure and how it is literally changing lives."
The webinar will be held at 6:00 p.m. CST and is open to the public. While free, registration is required to attend the event. Please register at https://attendee.gotowebinar.com/register/50208455048318209 or by calling 855-5MIGRAINE.
About Reed Migraine Centers: Reed Migraine Centers partners with the most respected pain management physicians in the world to provide individuals who suffer from chronic migraine headaches with access to the most effective pain control treatments available. Reed Migraine Centers offers advanced treatments and minimally invasive procedures, including the International Headache Society's Cephalalgia Award winning Reed Procedure® to help migraine suffers enjoy a better quality of life. The partner physicians of Reed Migraine Centers continue to engage in pioneering pain management research to find new and more effective ways to control chronic migraine headaches and someday end migraine pain. To learn more about Reed Migraine Center, visit http://www.ReedMigraine.com.
About Neuro Stim Technologies: Neuro Stim Technologies is a marketing agency specializing in raising the awareness of innovative technologies and advanced procedures that improve the quality of life of those that suffer from chronic pain. Neuro Stim partners with top facilities to provide increased access for migraine patients.