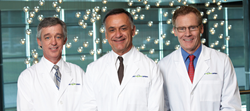 Absolutely all of the patients we treated reported success
Dallas, TX (PRWEB) February 19, 2015
Reed Migraine Centers has announced the publication of a new research paper detailing the successful application of the Reed Procedure® in a series of patients suffering from the debilitating malady of hemiplegic migraine headaches. The study published in the medical journal "Neuromodulation" found that all 4 patients treated reported successful control of both their headaches and neurological symptoms, which allowed them to return to full normal daily activities, including work, sports and family life.
"While rare, hemiplegic migraine is arguably the most severe form of migraine, as in addition to the severe headache, these patients suffer from weakness or paralysis over part of their body during the headache," explained Dr. Reed. "In fact all of the patients in our study were so completely debilitated from their disease that they were not only unable to work, they frequently could not even attend family outings."
Team member and co-author, Dr. Robert Bulger, described the impressive results of the therapy. "Absolutely all of the patients we treated reported success," said Dr. Robert Bulger. "While we have seen excellent results before with the Reed Procedure®, it was particularly fulfilling to see such dramatic improvements in my patients suffering from such a devastating illness."
Dr. Bulger put a human face on the study, when he described the dramatic response enjoyed by a recent patient of his. "Joan had reached the point of complete incapacitation and was virtually bedbound," related Dr. Bulger. "So, imagine my pleasure as a physician, when I saw her back 6 months after treatment and found her wearing a big smile, as she emphasized to me that she was not just better – she was completely headache free - and in fact had just returned from a zip-lining adventure during a trip to Alaska. Before the implant, she could hardly get out of bed, and now my patient is living life to the fullest. This has been an amazing journey for all of us."
Co-author, Dr. Kelly Will, emphasized the medical team's continued success. "In addition to our study patients, we now have another patient with hemiplegic migraine who has had a positive response to a test stimulator," said Dr. Will. "She had a great response to the initial test stimulator, as she was almost completely headache and symptom free for the entire period," Dr. Will continued. "She and her husband are definitely looking forward to the upcoming permanent implant."
Dr. Frank Conidi, a co-author with the Department of Neurology at Florida State University College of Medicine, emphasized the importance of the initial "test or trial" portion of the procedure, as despite the excellent results reported in the study, individual results for any patient may vary. "One of the many nice things about the Reed Procedure ® is the initial test stimulator phase," said Dr. Conidi. "Our patients are pleased with this, as it allows them to actually test and see how well a stimulator will work for them, before they actually commit to the full procedure."
The Reed Procedure ®, technically known as "Combined Occipital and Supraorbital Nerve Stimulation" was first described in a landmark paper published in 2010 in "Cephalalgia," the Journal of the International Headache Society. The Society honored Dr. Reed with the prestigious "Cephalalgia Award" for the best original research contribution to the journal that year.
Lauren Smith, Director of Physician Services for Reed Migraine, indicated that Dr. Reed is currently holding weekly patient information webinars for those who would like more information on the Reed Procedure®. "I strongly recommend that patients attend one of our webinars to hear Dr. Reed personally discuss the full details of the treatment," said Mrs. Smith. "Patients can register for an informational webinar on our website at http://reedmigraine.com/webinars.php?lt=42 ."
About Reed Migraine Centers:
Reed Migraine Centers partners with the most respected pain management physicians in the world to offer advanced treatments, including the International Headache Society's Cephalalgia Award winning Reed Procedure®, to help migraine suffers enjoy a better quality of life.