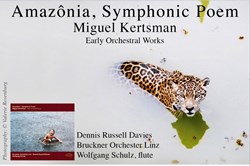 Miguel Kertsman lets us hear music rooted in European classical traditions and Brazilian folklore…[his] music remains indescribable and defies categorization. – Rolling Stone
Boston, MA (PRWEB) October 21, 2013
Miguel Kertsman Releases Amazônia
Bruckner Orchester Linz Dennis Russell Davies Wolfgang Schulz - Gramola 98959, Naxos Distribution
Brazilian-American Composer Captivates With Three Evocative Early Works
"Miguel Kertsman lets us hear music rooted in European classical traditions and Brazilian folklore… [his] music remains indescribable and defies categorization." – Rolling Stone
Three richly evocative orchestral works by acclaimed Brazilian-American composer Miguel Kertsman form this exhilarating new release from Gramola Records, are now available worldwide from Naxos Music. Kertsman's early works have captivated audiences internationally, each spanning the boundaries of conventional music genres. Conductor Dennis Russell Davies directs the Bruckner Orchester Linz on this premium recording.
Kertsman's Amazônia Symphonic Poem (1987) was written at age 21 as a protest against the destruction of the Amazon rainforest. The works depicts both the shimmering details and majestic expanse of this precious natural setting, as described by Kertsman: "The mysterious sounds of the valleys, the frenetic rhythms of its inhabitants, storms, the ecstasy and inner peace one would feel by witnessing nature's celebration." The Sinfonia Concertante Brasileira for Flute and Orchestra (1988), featuring Vienna Philharmonic Principal Flutist Wolfgang Schulz, combines elements of Brazilian music, jazz, and lush Romanticism, ranging from the humorous (including the 3rd movement which is entitled "The Dumb Donkey Called Jackass") to the introspective. Finally, the Chamber Symphony No. 1, "Acorda!" (1995), meaning "wake up!" in Portuguese, is scored for a "darker orchestra" (lower range woodwinds and strings, organ, with multiple percussionists and two female voices). Everyday traffic noises, gentle sounds of the seashore and the stillness of blissful mediation share the sonic journey for this compelling work.
Miguel Kertsman has made his mark on the international music scene with critically acclaimed productions spanning the boundaries of conventional music genres and ranging in style from orchestral, to operatic, to experimental, jazz. His large scale production Amazonica (Sony Classical), a time voyage to the heart of Brazil, included a vast cast of musicians, singers, and folklore artists and received international attention, with BBC praising Kertsman's "direct appeal to ear and imagination." Kertsman's works have been performed at premiere venues in New York, London, Rio de Janeiro, Vienna, Sao Paulo, Linz, and Chicago by artists such as Angelika Kirchschlager, John Williams, Dennis Russell Davies, St. Paul's Chamber Orchestra, and The Ahn Trio. Current projects include a new opera, a Bassoon Concerto for Martin Kuuskmann, a Concerto for Percussion and Orchestra, and a Concerto for Violin and Horn. Kertsman has served as Faculty and Artist in Residence at Tribeca Flashpoint Media Arts Academy in Chicago, and designed and directs the new M.A. program (Music for Film and Media) at the Danube University, Austria holding Composition Seminars and workshops at Universities and Music Conservatories.
You can learn more about Miguel Kertsman at http://www.miguelkertsman.com.
For more information, images, or to arrange for an interview with Miguel Kertsman, please contact Melissa Zeigler at Powderfinger Promotions: melissa(at)powderfingerpromo(dot)com.
Powderfinger Promotions–Independent Radio Promotion and Publicity. Since being founded in October 1994, Powderfinger has come to be regarded as a top indie radio promotion and publicity firm with ties across North America.