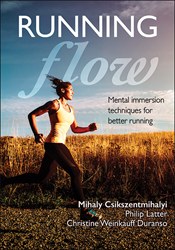 "Anyone who has experienced flow on a run wants to do so again. This fascinating book will show you how." — Scott Douglas, Senior Content Editor, Runner's World
CHAMPAIGN, IL (PRWEB) December 06, 2016
Many runners have experienced moments when everything clicks but written them off as chance occurrences. The easy sense of control and empowerment, they assumed, was nothing more than a lucky coincidence. World-renowned researcher Dr. Mihaly Csikszentmihalyi, who introduced the word "flow" to describe the phenomenon of deep immersion in an activity where mind and body seem to work together almost effortlessly, says that understanding the rare occasions when psychology and physiology fall completely in sync offers runners the best chance of experiencing flow when it's needed most.
Csikszentmihalyi (known to his colleagues as Dr. Mike) explains, "being ignorant of flow doesn't preclude it from happening, and knowing about it doesn't guarantee its timely arrival. The more knowledge you have of flow, the more likely you are to enter your runs in the proper states of mind and body necessary to achieve it."
In his forthcoming book, Running Flow (Human Kinetics, February 2017), Csikszentmihalyi points out nine separate dimensions that add up to a complete flow experience.
1. Clear goals. "Consider your runs," Dr. Mike advises. "Sometimes you set out with no objective other than to enjoy yourself. You find value and pleasure in those runs for their own sake. Other times you challenge yourself by setting concrete goals and pushing your body and mind to achieve them. These are the workouts and races that test your limits." The latter scenario is more likely to induce flow, even though the first run may be enjoyable in its own right. The flow-inducing run begins with a more concrete goal, such as running a predetermined distance at a specific pace.
2. Challenge–skills balance. Finding an appropriate balance between skills and the challenge at hand is very critical. Fortunately, the more experience runners have in setting goals for themselves, the easier it becomes. To experience flow, they want to find a challenge that is within reach but still requires effort to achieve. This is not as easy as it might seem. A high challenge for an Olympian might induce terror in a recreational athlete, while a recreational runner's goals might be too much for a beginner.
3. Unambiguous feedback. Once a challenging goal is set, the next step for runners to consider is the feedback they are receiving in real time. Athletes steadily build a sense of kinesthetic awareness, knowing their own body more keenly over time. For a runner, this comes down to better understanding the implications of certain muscle contractions, breathing patterns, heart rate, foot strike, stride length and cadence. As they learn to listen to their bodies, they also begin to understand what is beneficial to good running and goal completion and what is not.
4. Focused attention. Paying attention is an active process that can be improved over time. Attention is at its fullest in a flow experience, because once the mind isn't wandering, it becomes completely engulfed by the task at hand. In a race situation, this means runners are fully aware of the internal feedback their bodies are providing and the external feedback coming back from competitors and spectators, their race position and the clock. Superfluous thoughts about work, family, relationships or what's for dinner disappear as the race takes precedence.
5. Merging of action and awareness. When attention is fully absorbed in the task at hand during a flow experience, runners feel completely at one with their actions. Everything feels automatic because there is no separation between thoughts and actions. While a basketball player in flow might talk about making a move on pure instinct, or a softball player might describe her bat or mitt as an extension of herself, for runners the merging of action and awareness most often translates into a sense of lightness and ease.
6. Sense of control. Even the most optimistic person would admit that they can control surprisingly few things. "You cannot control the weather, the actions of your competitors, the flow of traffic that impedes your rhythm, the virus that comes home from school with your child or the last-minute job request that keeps you off the trails and in the office an extra two hours," Dr. Mike says. He reveals that the limits of our control disappear in flow as our focus narrows down to what we can control — ourselves and our actions. Since all feedback is pointing in a positive direction, we experience a sense of empowerment and control over our own destinies.
7. Loss of self-consciousness. It may seem paradoxical for runners to lose their sense of self-consciousness at the exact moment they feel most in control of their actions and destiny, but it can happen in flow. With attention firmly centered on the task at hand, no additional mental energy remains to entertain self-doubt or worry about others' perceptions. While perfectionism can be welcomed when it comes to learning and developing a skill like running, the need to always be proficient leaves perfectionists overly critical of their actions and behaviors.
8. Time distortion. Escaping the tyranny of time is no easy task. In a flow state, as runners find themselves immersed in a pleasurable task, their sense of time is distorted. A 30-minute race feels like it's over in a blink of the eye. A two-hour long run with friends leaves them shocked at how many miles they covered. Even with their conscious minds fully aware of all the roads and trails they're navigating, there's still a sense of wonderment that it passed by so quickly.
9. Intrinsic motivation. Flow isn't possible for a runner who only competes for trophies and prizes. Those runners may find pleasure in running far or fast or get a rush from a runner's high, but without an intrinsic love of running, flow is not available. Flow can increase love for an activity: Not only does the effortless state make running seem more pleasurable, but the level of success that accompanies flow experiences makes it more intrinsically and extrinsically rewarding.
In Running Flow, Dr. Csikszentmihalyi is joined by fellow psychologist Christine Weinkauff and running journalist and coach Philip Latter. This landmark work is the first book dedicated to helping runners achieve the state of flow in competitive and training environments. For more information on Running Flow or other running books and resources, visit HumanKinetics.com.
###