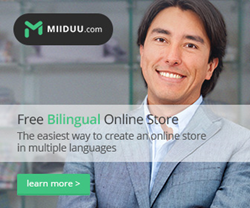 The easiest way to create an online store in multiple languages.
Wilmington, DE (PRWEB) June 13, 2014
Miiduu.com has launched the first truly efficient solution for multilingual e-commerce. Now, entrepreneurs can set up a fully functional e-commerce site in multiple languages with just a few clicks.
The Miiduu interface allows users to manage their multilingual storefront and customers all in one place, saving time and money. Miiduu users can create a bilingual online store or choose to operate their store in many languages.
Online sellers are increasingly aware of the potential of worldwide buying power:

More than a billion buyers worldwide were responsible for $1.2 trillion in sales last year.
Having an English-only site limits the site to about 1/3 of the online potential.
A large majority of consumers say that they only browse websites in their native language and will only buy a product in their native language.
Whether reaching out to an international audience or selling within a region that has multiple languages, sellers often need to think beyond a single-language site.
"We saw so many comments about the challenges of setting up bilingual online stores. Small businesses couldn't afford custom programming and had been left with using ineffective plug-ins or creating multiple sites in different languages," says Miiduu CEO, David Xu. "This meant duplicating efforts when updating pricing inventory, coupons and specials. We believe this product will revolutionize online sales for the small business."
With Miiduu's new multilingual feature, creating and managing a store in multiple languages is effortless. Everything is built in to the interface and users do not need any technical knowledge to create their multilingual store.
About Miiduu: Founded in February of 2010, Miiduu.com focuses on providing a turn-key e-commerce solution for small to mid-sized businesses. Miiduu.com covers all aspects of creating an e-commerce presence for businesses, such as website creation and hosting, database management, search engine optimization, shopping cart functionality, SSL, and merchant service solutions. With all that taken care of, business owners can focus on what's important, like growing the business. Learn more at Miiduu.com.