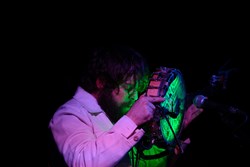 The Psychedelic Banjo Madness of Tall Tall Trees.
New York, NBew York (PRWEB) January 11, 2014
Fresh off a whirlwind tour of the US, Europe and Japan, New York City based musician Mike Savino, known to fans as Tall Tall Trees, announces a PledgeMusic fundraising campaign to finance his third and most innovative record yet. Savino is rapidly making a name for himself in the indie music scene, stunning audiences with heartfelt songs songs like "Highwire", and "Nothingless", along with dazzling looping skills, and a light up space age banjo of his own design dubbed, "Banjotron". A relentless touring schedule, both solo, and with fellow loop artist and NPR darling Kishi Bashi, has amplified the buzz building around Savino and his psychedelic banjo music. The third Tall Tall Trees album, which will be produced by Kishi Bashi, will mark the first since Savino left his touring band behind to focus on solo performances, and will feature songs written specifically for the banjotron. Part drum, part electric guitar, part synthesizer, the banjotron is quite possibly the biggest innovation to happen to banjo music in a very long time, and with the recent boost in the instrument's popularity with groups like Mumford and Sons, 2014 is sure to be a busy year for Tall Tall Trees, who already has some major music festivals knocking.
In recent years, crowdfunding has quickly become the new business model for independents, and PledgeMusic not only gives music fans a unique experience and insight into the artist's world, unlike other websites, a portion of the proceeds go to benefit music education, which plucks a heart string for Savino, "My passion for music was ignited in the 4th grade by a saxophone and an amazing music teacher, and I would hate for children not to have that opportunity themselves."
Tall Tall Trees plans to release his third album in late 2014 with a full US, European, and Japanese tour to follow.
About Tall Tall Trees and Mike Savino
Mike Savino has independently released two albums, "moment" (2012) and "Tall Tall Trees" (2009) on his own Good Neighbor Records. Hailing from Long Island, NY and based in Harlem for the past 15 years, Savino has collaborated with a wide ranging of artists including indie rock luminaries of Montreal, ballet patriarch Mikail Barishnikov, and indie film pioneer Michel Gondry.