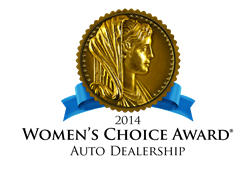 "We feel deeply honored as a Women's Choice Award recipient in knowing that we achieve our goals of providing excellent customer service without pressure or discrimination." Dominic Scrivner, Managing Partner
Thornton, CO (PRWEB) June 27, 2014
As the collective voice of women's recommendations, experiences and perceptions, WomenCertified® is pleased to announce that Mike Shaw Subaru has received the Women's Choice Award® based on excellent recommendations from their female customers in a customer satisfaction survey conducted by WomenCertified using the dealership's customer database.
Mike Shaw Subaru received excellent survey scores in several areas including the overall sales experience. In fact, 9 out of 10 women polled said they would definitely recommend Mike Shaw Subaru to their family and friends. "Car buying remains the most dreaded shopping experience among women which is why the Women's Choice Award is widely sought after by progressive dealerships who appreciate being recognized as a dealer that women can trust and refer with confidence," said Delia Passi, Founder of WomenCertified® and author of winning the Toughest Customer: The Essential Guide to Selling to Women. "We are proud of Mike Shaw Subaru for taking ownership of their customer experience and creating a business environment that provides exceptional service both to women and men alike."
Considering that women now account for more car purchases and service sales than men, the Women's Choice Award is her vehicle to finding a dealership that she can choose with confidence.

Women buy more than half of the new vehicles in the U.S. and influence up to 80% of all car purchases (Source: Women-Drivers.com, 2010).
Women influence more than 85 percent of all automotive sales in U.S. households (Forbes: Women and the Auto Industry).
65% of service customers at dealerships are women (Heelsandwheels.com, 2013).
Women spend over $200 billion per year on new vehicles and mechanical servicing of vehicles each year (Heelsandwheels.com, 2013).
"We feel deeply honored as a Women's Choice Award recipient in knowing that we achieve our goals of providing excellent customer service without pressure or discrimination. Our industry hasn't given itself a great reputation, but we take pride in treating all guests with dignity, respect and honesty." - Dominic Scrivner, Managing Partner
Click here to view the full more about why women choose Mike Shaw Subaru.
About Mike Shaw Subaru
Mike Shaw Subaru is a family owned and operated dealership. Mike and his wife Nancy have been married for 39 years and have three children and three grandchildren. They have always had strong and generous ties to Colorado's communities. Over the past ten years Mike and Nancy have given over $4 million to the community and have helped raise over $25 million for community and non-profit organizations. We are excited for you to come visit us in person. Our location is 650 West 104th Avenue, Thornton, and we're happy to help you in any way we can. Mike Shaw Subaru, proudly providing quality Subaru vehicles to the Denver, Boulder and Longmont, Colorado area.
About The Women's Choice Award®
The Women's Choice Award sets the standard for helping women make smarter choices by collectively identifying the brands, products and services most recommended and trusted by women and those that deliver a customer experience worthy of her recommendation. Our hundreds of thousands of members each share a lifetime of experiences as a woman and vote for businesses and brands who are meeting their high expectations. Awards are based on the willingness of 9 out of 10 of the dealership's actual female customers to recommend the dealership to their friends, family and associates. To learn more visit http://www.womenschoiceaward.com.