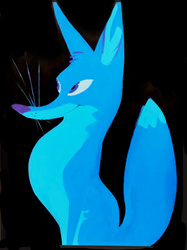 I hope an evident pride in being a cartoonist comes through as you peruse my art.
(PRWEB) May 07, 2015
The Creative Talent Network is proud to present in his first solo art exhibition "The Fearless Art of Mike Gabriel" at Center Stage Gallery in Burbank, CA. Mike Gabriel is best known for his contributions as Director and Art Director on some of the highest grossing films in the history of animation at Walt Disney Animation such as "Pocahantas," "Wreck it Ralph" and the academy award nominated short film "Lorenzo" during his 30 year career at the studio.
"Stylistically, I am striving to become as unique as possible. What does my hand to brush to canvas want to do that nobody else is doing? Where does my sensibility stray off the expected path and veer into a true to my gut subtextual inclinational style? I want to continue to listen to that inner voice and tell my fine art voice to shut up. What do I love? I ask myself that when I am about to start a painting. Don't think about the form; think about the feeling." ~Mike Gabriel
The gallery exhibit is showing over fifty originals and hundreds of prints that are both display and for sale, all of which exhibit playful examples of a full career at Walt Disney Animation. As a companion to the exhibit are QR codes displayed about the gallery where you can listen to the words of Mike Gabriel. Additionally CTN Press has created a 96-page, full color companion book that includes work from Mike's career and contributing words from Mike's colleagues such as Lorelay Bovè Art Director, Chris Buck Walt Disney's 'Frozen' Director, Ralph Eggleston Production Designer Pixar Animation Studios, Paul Felix Production Designer Walt Disney Animation, Glen Keane Legendary Animator, John Musker award winning Animation Director and many. The gallery is hosting a book signing and launch event on May 17th with many of the contributors in attendance.
The Fearless Art of Mike Gabriel
April 17, 2015 – May 31, 2015
Center Stage Gallery
847 Hollywood Way
Burbank, CA 91505
Special Book Launch Event
The Fearless Art of Mike Gabriel
May 17th, 2015 1:00pm - 4:00pm
Artist in attendance
For more information about "The Fearless Art of Mike Gabriel" book and exhibit, please visit http://www.centerstagegallery.com or contact Maggie Perkowska gallery coordinator at (818) 259-1598.
About the Artist: Mike Gabriel has been playing a key creative role at Walt Disney Animation Studios for over thirty years, working in a variety of capacities including director, animator, storyman, character designer, visual development, production designer and art director. In the latter capacity, he most recently helped to create some of the wildly imaginative and visually stunning gaming worlds for Disney's Oscar®-nominated 2012 comedy adventure, "Wreck-It Ralph."
Gabriel has co-directed two Disney features – "The Rescuers Down Under" (1990) and the Oscar®-winning "Pocahontas" (1995) – as well as the Oscar®-nominated 2004 short, "Lorenzo." For the latter, Gabriel designed the characters, storyboarded the film, painted all the backgrounds, and was responsible for the production design. "Lorenzo" was based on an idea by Disney legend Joe Grant, who was Gabriel's friend and mentor.
Born in Long Beach, California, Gabriel took his first animation class at Golden West Junior College (in Huntington Beach), and made his first contact with the Disney Studios when he was just 18. Determined to become a Disney animator, he finally got the chance and began working there as an assistant on the feature "The Fox and the Hound" (1981). Other animation assignments quickly followed on the 1982 short film, "Fun with Mr. Future," and the features "The Black Cauldron," "The Great Mouse Detective" (for which he designed the supporting dog and cat characters, Toby and Felicia), and "Oliver & Company." For "Oliver," he served as supervising animator, and also contributed to the story and character design. His unit was responsible for much of the exciting chase scene that serves as the film's finale, as well as Dodger's song, "Why Should I Worry?"
Following his directing stint on "Lorenzo," Gabriel went on to provide concept art and storyboards for "Bolt" (2008), additional art direction for Disney's 2009 hand-drawn animated feature, "The Princess and the Frog," character designs, storyboards, and visual development for "Tangled" (2010, and visual development for "Winnie the Pooh." Other recent credits include visual development for Pixar Animation Studios' hit film, "Brave," and for Tim Burton's 2012 stop-motion animated feature, "Frankenweenie." Additionally, he did some concept and visual development work for Disney's 2013 animated release, "Frozen."
Gabriel and his wife, Tammy, have three children, and live in Santa Clarita, California.