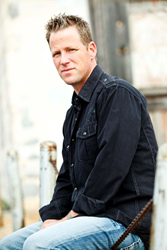 "Gypsy Man is a solid album that should please fans of modern and classic country music alike. It is music well worth exploring." - Cashbox
(PRWEB) January 22, 2015
Singer, songwriter, and producer, Mike Love, releases his debut full length album, "Gypsy Man," bringing authentic country music back to the spotlight. With sounds rooted in artists such as Randy Rogers, Josh Abbott, and Gary Allen, "Gypsy Man" tells the story of the traveling musician. Mike's music is organic and stays true to country music with clear influences of Waylon Jennings, Willie Nelson, and Pat Green.
Self-produced, "Gypsy Man" stays true to Mike Love's organic style and sets him apart from today's country artists. "This album is about the lifestyle of a musician traveling from town to town and the trials and tribulations of that lifestyle," says Mike. Growing up in and around the music industry, Love came out with a four song EP back in 2002, and now over a decade later he is stepping back into the spotlight with his debut full length, Gypsy Man. No stranger to the road, Mike has opened up for numerous superstars, including Toby Keith, Tim McGraw, and Jason Aldean. Mike Love is gearing up to hit the road again this year in support of this new release.
Love wrote, played guitar, percussion, sang harmonies, produced, and mixed "Gypsy Man," which was mostly recorded at his own studio in Kansas. The album was later mastered in Nashville by Grammy-Award winner Richard Dodd (Tom Petty, The Traveling Wilburys, Ringo Starr, Joe Cocker, Keith Urban, and John Mellencamp).
You can learn more about Mike Love at http://www.mikeloveband.com/
For more information, images, or to arrange for an interview, please contact Melissa Zeigler at Powderfinger Promotions: melissa(at)powderfingerpromo(dot)com.
Powderfinger Promotions–Independent Radio Promotion and Publicity. Since being founded in October 1994, Powderfinger has come to be regarded as a top indie radio promotion and publicity firm with ties across North America.