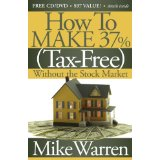 Colorado Springs, CO (PRWEB) November 21, 2014
Mike Warren, nationally known author, investor and instructor has recently been featured in International Business Times for his book, 'How To Make 37%, Tax Free'.
"Everyone knows that you can make money in the stock market, but all of the systems that teach you how to make money in the stock market require risk and a lot of work. 'How To Make 37%, tax-free, Without the Stock Market' shows you how to make at least 37% tax free on your money every year without the stock market and have it guaranteed with real estate and to get 5 times the average stock market rate of return without the risk," says Mike Warren.
Mike Warren's goal is to teach people about another investment vehicle that provides above market returns without a lot of effort, management or risk.
"This is a must read for anyone who wants to learn step by step the best business in or out of real estate. When you learn this money making system from the expert you will understand what I mean. Almost all super successful investors do this, finally Mike Warren shows you how and why. If you have ever wanted to truly earn residual income, then read and do what Mike Warren says. He makes it easy and he will make many people rich, what a great book, a must-read!" says Robert Shemin, New York Times bestselling author of "How Come That Idiot's Rich and I'm Not".
Mike Warren is a nationally known author, investor and instructor in the areas of collecting on real estate judgments and liens and making money with loan modifications, deed in lieu and short sales. Mike holds a double MBA, and is President of a diversified real estate consulting firm. TV and radio show hosts call Mike "America's Real Estate Assassin" because of his laser focus and his ability to get deals done. Mike is the guy investors go to when they want to improve their investment portfolios.
Mike Warren
http://www.linkedin.com/in/themikewarren