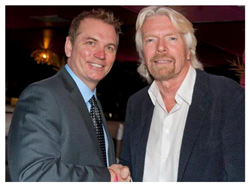 Colorado Springs, CO (PRWEB) March 20, 2014
Mike Warren is an internationally known author, investor and instructor and he is set to release his new business book titled "How To Sell Your Company for 3X More Than It's Worth Today!" in Fall 2014. This book will provide consumers with his secrets on successful business management and the key to adding value to one's company.
Mike holds a double MBA in the studies of business and real estate. Mike is a sought after speaker that shares his passion of changing people's lives and helping them build a legacy in real estate and in business. Mike teaches only what he has personally accomplished and has taught people all over the world: how to make fast, easy, and consistent profits using his innovative, creative, and proven techniques. He will be sharing all of his own experience in his new book "How To Sell Your Company for 3X More Than It's Worth Today!" Mike has appeared on television, has contributed to articles in numerous real estate and related business publications and speaks internationally on a regular basis. He has shared the stage with some of the world's most famous business minds.
Since the 1980′s Mike has followed his passion as a serial entrepreneur and has started dozens of successful multi-million dollar businesses. He has bought and sold hundreds of properties that required little or none of his own money and has perfected the art of making money on property that he never has to buy, sell or rent.
Mike has trained tens of thousands in real estate and social media over the past 20 years and has been in front of groups with 20-1,500+. Mike Warren speaks, trains and coaches both nationwide and internationally about real estate and online and offline Social Media.
About Mike Warren
Mike is an expert in the areas of making money from real estate that one never has to buy, sell or rent and an expert in doubling and tripling the revenues and profits of companies by utilizing the benefits of outsourcing.
Mike speaks and teaches via platform, teleseminar, webinar, and video conferencing. His presentation style has been described as "edutainment"; a mix of education and entertainment. Mike Warren's specialties include:

Making money with judgment liens – profiting from property one never has to buy, sell or rent
Buying defaulted mortgages from banks for pennies on the dollar
Tax lien investing – getting 18% guaranteed by the government
Guerrilla Credit – building business lines of credit (even if one has bad credit) and getting cash for any purpose
'Outsource Your life' – secrets to using virtual assistants to manage one's life and business
Buying a business using the businesses own cash
Mike Warren
http://www.TheMikeWarren.com
https://www.facebook.com/mikewarrenauthor
http://www.linkedin.com/in/themikewarren