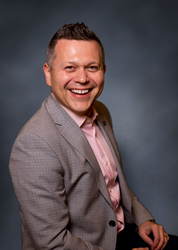 Embracing a culture that fosters individual achievement has resulted in profound success for the College and the learners we serve.
SALT LAKE CITY (PRWEB) February 15, 2019
Nightingale College's President and CEO, Mikhail Shneyder, has been invited to participate in a panel discussion at the 16th Annual National Conference on Allied Health Education hosted by the Accrediting Bureau of Health Education Schools (ABHES). The conference will be held at the Westin Savannah Harbor Golf Resort and Spa in Savannah, Georgia from February 20 to 22.
Shneyder will join the Workforce Development Panel on February 22, at 10:45 a.m. to discuss Nightingale College's radical approach to workforce development through mission and values alignment, personal elevation and organizational culture. As a Deliberately Developmental Organization (DDO), the College redefines employment through heavily investing in the personal and professional development and growth of collaborators by providing individual support in overcoming self-limiting beliefs and engaging each collaborator in its ELEVATE Programs.
"Embracing a culture that fosters individual achievement has resulted in profound success for the College and the learners we serve," said Shneyder. "Every decision is made in alignment with our mission and values to achieve the ultimate vision of creating better health and better humanity for a better world."
As a registered nurse and devoted education leader, Shneyder brings the unique perspective of an advocate for learner success. Prior to joining Nightingale College in 2012, he served as Dean of Nursing and Vice President of Health Professions Education Programs at two accredited colleges. With 19 years of professional management experience, 13 in higher education, his insights provide a valuable approach to workforce development.
For more information on the Workforce Development Panel, or to register for the conference, please visit the conference website.
ABOUT NIGHTINGALE COLLEGE
Nightingale College creates avenues to accessible nursing programs with its fully accredited distance education associate and bachelor's degree nursing programs. Supporting the growing need for nurses and providing strategies to combat the nursing shortage, the College's programs work to not only grow but maintain homegrown nurses with the help of local health care systems. Nightingale College emphasizes graduating future nurses who are confident, competent and compassionate. Since its establishment in 2010 in Ogden, Utah, the College has graduated nurses in Utah, Idaho, and Wyoming. To learn more about the College, its mission, and programs, visit http://nightingale.edu/.