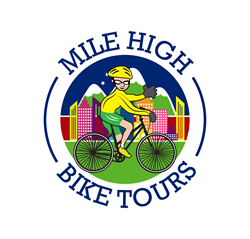 Touring by bike is the only way to visit all of Denver's must-see sites in such a short period of time.
Denver, CO (PRWEB) April 30, 2015
Spring 2015 opens up the first season for Denver's premier guided bicycle tour operator. Mile High Bike Tours was created to allow bicycle enthusiasts of all levels to explore downtown Denver's most treasured sites and must see attractions with a knowledgeable local guide.
"The response for those who have taken the tour has been overwhelmingly positive," says Monique Madison, co-founder and operator of Mile High Bike Tours.
The Denver City Tour utilizes the city's bike lanes, neighborhood streets and trail systems to access Denver's most iconic public art installations, historical buildings, architecture, all three professional sports arenas, and parks. The 420: Educational Tour lets guests visit all the great sites on the Denver City Tour but also gives them a chance to stop by an actual dispensary, where they'll get an informative briefing on Colorado Law regarding the purchase and use of marijuana in our state. They'll also learn about the various products available and their numerous medicinal and recreational uses, and an opportunity to purchase items.
"Touring by bike is the only way to visit all of Denver's must-see sites in such a short period of time." says Madison, "We stop to take pictures along the way, learn some fun facts about the sites, and enjoy the freedom of experiencing what it feels like to ride a bicycle through a bustling city. Whether you're a local or from out of the state you won't want to miss this bike tour."
Sara Cates, a recent guest on the tour stated, "I have lived in the Denver area for over 7 years and thought I had seen everything Denver has to offer. Boy was I wrong. The experience provided by Mile high Bike Tours opened my eyes to so many things that I have never seen in Denver, and gave me a different vantage point of things that I have seen. The route takes you through some of the most well-known spots in the city, and Monique's personal touch of providing little known facts about each stop keeps interest piqued. I highly recommend checking out Mile High Bike Tours!"
The tours are approximately 9 miles in distance and 2.5 hours long on flat, easy terrain. For more information about Denver Bike Tours, visit the Mile High Bike Tours website or call 303-801-1766
####