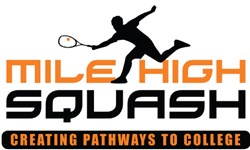 The Anschutz-Hunt Challenge Cup was a success by all accounts: the players and sponsors alike had a wonderful time competing, eating and drinking, and learning about Mile High Squash.
Denver, CO (PRWEB) October 30, 2013
Denver's Mile High Squash hosted the Third Annual Anschutz-Hunt Challenge Cup at The Denver Athletic Club. The Anschutz-Hunt Challenge Cup raised funds $42,000 for Mile High Squash (MHS). The event was held last October 4-6.
According to Eric Eiteljorg, "This squash tournament is unique because it brings together professional to novice players together for three days of squash competition. Preston Quick, world #7 on the Squash Doubles Association Pro Tour, co-captained one of the eight teams. Narelle Krizek, world #1 on the Women's Doubles Squash Association tour was also a co-captain. Alicia McConnell, a seven time national singles champion and eleven time national doubles champion, participated on a team."
Preston Quick adds, "This type of team event, where players of all ages and abilities come together to compete and support one another, make new friends, and learn about Mile High Squash is not just good for Mile High Squash, it also good for the local squash community," Narelle Krizek states, "This event shows what is good about squash – sportsmanship, team, and endurance-and how squash can be used effectively as part of a holist approach toward becoming college-bound."
Eiteljorg continues, "First place was won by Team Evans, co-captained by Catherine Coucoules and Otto Schlosser and powered by Alicia McConnell. MHS student Genesis was on the winning team and was amazed at the level of play. The monies raised will be used to offset the cost of the Academic and Health & Wellness programming this year."
MHS, a local college access program housed in the Denver Athletic Club, hosts the Anschutz-Hunt Challenge Cup at the Denver Athletic Club each year. The following Denver businesses supported the event: Bonanno Concepts, Chroma Commercial Capital, Husch Blackwell, Gruppo Campari, Harrow Sports, RBC, Steele Street Bank, Udi's, and Wazee Partnters. For more information about Mile High Squash, please call 720-323-3608 or to our website.