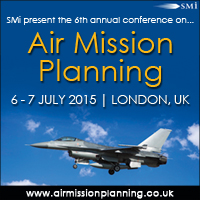 London (PRWEB UK) 25 March 2015
SMi have just announced the 6th annual conference on Air Mission Planning will return to London this coming July.
The two day event will look at the theoretical and pragmatic aspect of Mission Flight Management and Mission Support Systems and will provide attendees with the knowledge to plan and brief all phases of a special operations aviation mission from - initial planning, briefing and the execution of the whole operation.
There will be an opening keynote address on both mornings of the conference with day one commencing with an address from Colonel Giorgio Seravalle, Chief of Air Operations, Italian Air Force Staff presenting on 'Air Mission Planning from Airlift and AAR point of View'. The day two keynote address will be led by Brigadier General Holt, United States Deputy Military Representative to the NATO Military Committee of the United States European Command (US EUCOM). Brigadier General Holt will focus on 'Air power strategy formulation and the power of disruptive red teaming'.
Other featured speakers include:
Air Commodore Paddy Teakle, GBR AF, Deputy Force Commander (FCD)/Chief of Staff (COS), HQ NAEW&C Force Command, NATO
Lieutenant Colonel Cory "Fargo" Jeffers, Commander, 13th ASOS, Fort Carson, CO (USA)
Lieutenant Colonel Rafael Fernandez-Shaw Dominguez, Operations Division, Spanish Air Force
Lieutenant Colonel Jaroslav Mika, Commander, 211 Squadron, Czech Air Force
Colonel Reinhard Krell, Director, Movement Coordination Centre Europe
Squadron Leader Derek Reinhardt, RAAF Lead-In Fighter Capability Assurance Program - Resident Project Engineer, Royal Australian Air Force
George Onslow, B2, AWC Scientific Advisor HW, Air Command, RAF
Dimitrios Petridis, Programme Manager of the Aviation Support Programme Office, NATO Support Agency (NSPA)
Click here for more information on speakers and presentations
Benefits of attending Air Mission Planning 2015:
Hear from new nations to speak at the event: Italy, Spain, Czech Republic and USA
Understand Planning Processes
Explore Interoperability and Mission Support Systems
Learn to effectively operate in a variety of different war theatres
Optimise Collaborative Mission Planning
Explore the role of Electro-Magnetic spectrum in Air Mission Planning
Use of Network Technology for Multi-Ship debrief
Integrate Technological Tools for Preparation of Flight Information
For those who are interested in attending there is currently a £300 early bird discount which expires on the 31st March. Further information is available online at http://www.airmissionplanning.co.uk
For event enquiries please contact the team on: +44 (0) 207 827 6000 or events@smi-online.co.uk
Air Mission Planning Conference
6th – 7th July 2015
Holiday Inn Regents Park, London, UK
http://www.airmissionplanning.co.uk
-----------------END--------------
About SMi Group:
Established since 1993, the SMi Group is a global event-production company that specializes in Business-to-Business Conferences, Workshops, Masterclasses and online Communities. We create and deliver events in the Defence, Security, Energy, Utilities, Finance and Pharmaceutical industries. For more information visit http://www.smi-online.co.uk