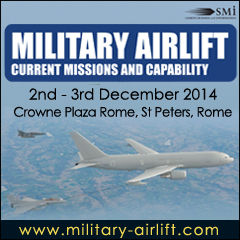 London (PRWEB UK) 17 July 2014
SMi have just announced Cesar V. Arroyo, Chief WFP Aviation Service from World Food Programme is the latest speaker to join Europe's largest bespoke Military Airlift conference.
The 15th annual Military Airlift event has the full support of the Italian Air Force alongside an ever expanding speaker line-up. Delegates will have the opportunity to hear from over 18 industry speakers and the chance to attend a complimentary site visit on 4th December to Pratica di Mare Airbase. The site visit will feature the KC-767 Tanker by Boeing for Italian Air Force, the launch customer for the aircraft (those interested are advised to book in advance due to limited availability). Click here for further details.
The 2014 conference agenda includes the following high-level speakers:

Brigadier General Giacomo De Ponti, Deputy Director, European Air Group
Brigadier General Miguel Angel Martin Perez, Head of Plans and Policy Division, Spanish Air Force Staff
Lieutenant General Sergei Drozdov, First Deputy Commander, Ukrainian Air Force
Cesar V. Arroyo, Chief WFP Aviation Service, World Food Programme
Speaker to be confirmed, Head Defence Support Chain Operations and Movements, UK MOD
Colonel Luigi Riggio, Commander 14th Wing, Italian Air Force
Colonel Reinhard Krell, Director, Movement Coordination Centre Europe
Lieutenant Colonel Ron De Haar, Chief, AMCC ISAF
Fernando Fialho, KC-390 Program Strategy Manager, Embraer
Ian Elliot, VP Defence Capability and Marketing, Airbus Defence & Space
Tim Floerchinger, Director International Business Development, Government Systems Division, ViaSat Inc
Laurent Donnet, Assistant Capability Manager, European Defence Agency
Michele Rega, Fixed Wing Officer, European Defence Agency
Dimitrios Petridis, Programme Manager of the Aviation Support Programme Office, NATO Support Agency (NSPA)
Speaker to be confirmed, Boeing
Click here to view the conference programme
The early bird rate ends 18th July, so please visit http://www.military-airlift.com to book your place today and save £300.
Alternatively contact the team on: +44 (0) 207 827 6054 for further information.
About SMi Group
The SMi Group is a highly professional, independent and global event-production company that specializes in Business-to-Business Conferences, Workshops and Masterclasses, and online Communities. The SMi Group creates and delivers events in the Defence, Security, Energy, Utilities, Finance and Pharmaceutical industries. For more information, please visit http://www.smi-online.co.uk.