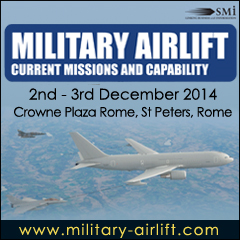 London (PRWEB UK) 23 October 2014
SMi are delighted to announce 4 new speakers have joined the conference agenda at Military Airlift 2014. Attendees will be able to join Airbus Defence & Space, Danish Defence Command, Military Medicine Agency - Czech Republic and Royal Danish Air Force - Air Transport Wing Aalborg at Europe's largest bespoke military airlift conference.
Their presentations will focus on:
Airbus Defence & Space: A panoply of airlift products for the global military mobility community
Ian Elliott OBE RAF Rtd, Vice President Defence Capability Marketing, Airbus Defence & Space

Why Airbus D & S? An explanation of recent corporate restructuring
The Light and Medium (CN235/CN295) Product Range: cost effective and proven workhorses
The A400M: now hitting the front line
A330 MRTT: continuing its global market dominance of strategic airlift and air refuelling
A small nation's tactical airlift operations in a strategic environment
Lieutenant Colonel Soren Andersen, Chief of Current Ops Division, Tactical Air Command, Royal Danish Air Force
Tactical airlift vice strategic and commercial options
Danish bridge between tactical airlift and Special Air Operations
Required tactical competencies in current operations
Limitations of tactical airlift in strategic operations
MEDEVAC in Central Europe: The Czech experience (presentation details to be announced shortly)
Hosted by: Colonel Michal Marecek, Chief of Air Emergency Medical Service Centre, Military Medical Agency and Lieutenant Colonel Roman Kovarik, Head Physician, Military Medical Agency
Aeromedical Considerations in evacuating contagious patients (presentation details to be announced shortly)
Hosted by: Major Dr. Claus Lie, Doctor, Danish Air Force
Click here for further details
The conference agenda will also include speakers from: Italian Air Force, Ukrainian Air Force, EUCOM, Spanish Air Force, European Air Transport Command (EATC), Royal Air Force plus many more
In addition – All conference attendees will be able to attend a complimentary Post-Conference Site Visit to Pratica di Mare Airbase and see the launch Tanker KC 767, courtesy of the Italian AF 14th Wing, the launch customer for the tanker. Places are limited so those interested are advised to secure their place as soon as possible.
Visit http://www.military-airlift.com for more information or contact the team on: +44 (0) 207 827 6054
---------------------ENDS-------------------
About SMi Group
The SMi Group is a highly professional, independent and global event-production company that specializes in Business-to-Business Conferences, Workshops and Masterclasses, and online Communities. The SMi Group creates and delivers events in the Defence, Security, Energy, Utilities, Finance and Pharmaceutical industries. For more information, please visit http://www.smi-online.co.uk