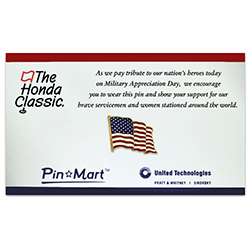 We're glad to be a part of such a large scale tribute to our military.
Chicago, IL (PRWEB) February 26, 2014
This year's Honda Classic Golf Tournament, frequented by over 150,000 spectators and 144 of the world's finest golfers, will include American flag pins provided as a donation by PinMart, Inc. The tournament will be held February 24th through March 4th at the PGA National Resort and Spa in Palm Beach Gardens, Florida, with the 27th designated as Military Appreciation Day. In an effort to raise money for Children's Healthcare Charity, PinMart has donated thousands of military pins as a way to pay tribute to men and women in the military, and our nation's veterans.
IMG Golf representing The Honda Classic has a history of charity work tied in with its golfing tournaments, and this year was no different and the organizers of Military Appreciation Day contacted PinMart to contribute to the event. In response, PinMart is creating American flag pins to be attached to informational cards and given out during the Thursday event at The Patriot Outpost Hospitality Pavillion where free lunch and snacks will be provided all day. Proceeds will benefit local children's health charities.
PinMart has a long history of supporting military recognition through it's work with social media campaigns and sales of their military pins; which was why they were approached by IMG Golf and The Honda Classic for this year's Military Appreciation Day. Michael Dominelli, PinMart's Vice President of Marketing points out: "We're glad to be a part of such a large scale tribute to our military, and to be able to provide them 100% American made flag pins. We thank them and their families for their past and current service."
About PinMart: PinMart, Inc. is a privately held company located in Mount Prospect Illinois, a suburb of Chicago, specializing in the design and manufacture of stock and custom designed emblems, lapel pins, and employee recognition, and awareness items. PinMart sells stock products via its online store and offers custom design and manufacturing. PinMart has taken advantage of its well positioned internet presence and now boasts a client list that includes over 300 of the Fortune 500 companies.