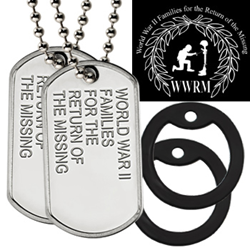 Topsham, ME and Mount Vernon, NY (PRWEB) May 05, 2014
The non-profit organization WWII Families for the Return of the Missing (WWRM) has teamed up with leading custom promotional products manufacturer LogoTags to sell replica military dog tags to raise money for WWRM's continuing efforts to help the families of over 73,000 missing service members locate and return these heroes to give them a proper burial. The funds will be used to provide the families with archival research items that they would normally have to pay for. It also helps fund much needed research world-wide in the WWII Efforts.
Those who wish to support this cause can visit the WWRM website at http://www.missingpatriot.com, where they will find more information and a link to order the dog tags from LogoTags' secure website, or they can order direct at http://www.logotags.com/mm5/product/WWRM-TAGS.html. The order page has access to a database of the missing that can be searched by the Service Member's name and provides the name, service, rank, and date of loss that can be entered on the order form for the dog tags. LogoTags will then produce and mail the military-style dog tags with this information embossed on them and a ball chain necklace to the benefactor who placed the order. Proceeds from the sale will go to WWRM.
WWRM was established in 1999 by the families of several of the missing service members after a family advocate group became necessary to help navigate through the complexities of POW/MIA recovery efforts within the United States government. WWRM remains the only non-profit organization dedicated solely to the return of WWII missing so that the families of theses heroes can give them a proper burial. Their work includes providing archival research and documentation from both domestic and international sources to WWII families, working closely with the U.S. agencies involved in POW/MIA affairs and, connecting families with the government agencies involved in their individual case for the missing loved one, connecting families with the resources needed to find resolution on their missing loved one, and where necessary, advocating for change in the accountability of the POW/MIA community.
LogoTags is the custom dog tags division of Ball Chain Manufacturing (BCM Corp), which has been supplying ball chains for the U.S. military for over five decades. LogoTags is honored to partner with WWRM and to assist WWRM in its mission to return as many of our missing soldiers from WWII as possible.
Please visit the WWRM website at http://www.missingpatriot.com or visit them on Facebook, Twitter, LinkedIn and YouTube for the latest news of our WWII missing.