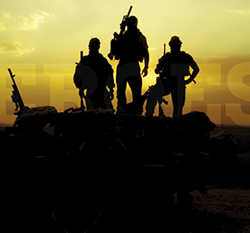 "These heroes gave us freedom, so supporting them and providing them hope is the least we can do. We've seen the honorable work of Military Heroes Support Foundation and felt compelled to help them continue assisting our heroes."
Fort Lauderdale, FL (PRWEB) May 13, 2015
With an agency in South Florida, Martinez Insurance Group celebrates the beginning of a new charity campaign as part of its ongoing Community Program, now looking to raise funds and collect essential items for local heroes and their families. In collaboration with Military Heroes Support Foundation, the agency started a campaign to collect items in demand, including Beef Jerky, Crackers, Nuts, Batteries, Baby Wipes, Hand Sanitizer, Eye Drops, Deodorant and Toothpaste. Donations can now be dropped off at the agency's address 18450 Pines Blvd, Pembroke Pines FL 33029. Monetary donations can be made through the designated donations page at http://www.martinezinsurancegroup.com/Make-A-Heroes-Day-Memorable_15_community_cause
The mission of the Military Heroes Support Foundation is to provide military veterans' direction and support in achieving an effective transition during their deployment and return home. The organization was founded on the sole principle that we will "NEVER LET A HERO STAND ALONE". As past, present and retired service members, friends and families, their 100% volunteers are committed to the men and women of our United States Armed Forces and their families.
Ernie Martinez, the agency's principal, who has helped touch the lives of many other families in the communities where his agencies are inserted, attested, "These heroes gave us freedom, so supporting them and providing them hope is the least we can do. We've seen the honorable work of Military Heroes Support Foundation and felt compelled to help them continue assisting our heroes."
The agency will promote the current campaign over the course of the next 45 days, through its social media channels, email and text message communications, as well as through a monthly magazine, delivered to thousands of households in South Florida, where the agency currently operates. Our Hometown magazine reserves a full page to feature the campaign and details of the cause. The electronic Flipbook version of the current issue can be accessed here: http://www.martinezinsurancegroup.com/Our-Hometown-Magazine_39.
To join Martinez Insurance Group in supporting Military Heroes Support Foundation, donors are encouraged to visit http://militaryheroesupportfoundation.org/donate.html and also share the page with friends and family. Contributors may be acknowledged for their donations through the agency's monthly magazine.
Martinez Insurance Group will continue to work with individuals and nonprofits in the area to identify new worthy opportunities to support the community, every 60 days. Through the agency's website, any members of the community can also submit information on known families or persons who could use some help – http://www.martinezinsurancegroup.com/Submit-A-Community-Cause-Idea_55 Entries are diligently submitted for review, and the elected worthy causes are properly contacted by a representative of Martinez Insurance Group Community Program. More information regarding past and current campaigns supported by the agency can be found at http://www.martinezinsurancegroup.com/community-cause
About Martinez Insurance Group
As a Personal Financial Representative in Pembroke Pines, Agency owner, Ernie Martinez knows many local families. His knowledge and understanding of the people in the community help him and his team provide customers with an outstanding level of service. They look forward to helping families protect the things that are important – their family, home, car and more. They can also help clients prepare a strategy to achieve their financial goals. To contact an expert at Martinez Insurance Group, please call (866) 675.6520.