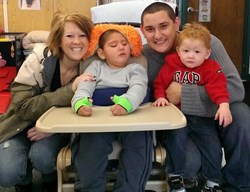 (PRWEB) December 10, 2013
The parents of a child born severely brain-injured at the military hospital at Fort Hood, TX, have settled their lawsuit against the U.S. government for $6.5 million, the parents' lawyers have announced.
The lawsuit was filed by Kasie and Higinio Rivera against Darnall Army Medical Center in U.S. District Court for the Western District of Texas, Austin, following the birth of their son on Sept. 12, 2008. The suit alleged doctors ignored evidence that the mother's contractions were over stimulated by the excessive use of oxytocin causing severe distress in the baby and the need for immediate delivery by Cesarean-section. (Rivera v. U.S. Government, Civil Action 1: 12-CV-338).
"Our goal was to make sure our son has the things he will need to have the best possible life," Kasie Rivera said.
"As a veteran myself, I strongly believe our military families deserve the best health care possible. We hope this sends a message and leads to changes that will keep other mothers safer," said Ken Suggs, of Janet, Jenner & Suggs, LLC.
According to a newspaper story in the Killeen Daily Herald on December 5, 2013 about the settlement, Haiden Rivera was airlifted three days after birth to the military hospital at Lackland Air force Base in San Antonio.
"He wasn't crying when he was born. I knew that something wasn't right. He wasn't moving, he didn't cry. He wouldn't drink out of a bottle," recalled Kasie, according to the article. Research led her to believe that the damage was related to trauma, the article said.
According to allegations made in the suit, while Kasie Rivera was in labor, nurses frequently turned off the oxytocin in response to decelerations in the baby's heart rate, but the doctors always ordered it resumed. This continued even after fetal monitoring showed the baby was in distress – a situation which medical standards of care dictates stopping oxytocin and delivery by C-section, according to the allegations.
Tests shortly after the birth showed the newborn had severe brain damage as the result of oxygen deprivation, along with other physical injuries, the lawsuit said.
At the time of the birth, Rivera and her husband, Iraq War veteran Higinio Rivera, were stationed at Fort Hood. The couple has since had another son and live in Michigan. Haiden, now 5, is nonverbal, can't walk and must be fed through a feeding tube.
"Life is different for him, but for the most part, he's happy," Kassie said in the article. Having the settlement money will ensure Haiden will be taken care of, no matter what may happen to her, she noted.
According to the article, Kasie fought off tears as she added, "That worry is not there anymore. I fought for him because I knew in my heart that there was injustice done, and it's a sense of pride and relief knowing I was able to fight for him."
Suggs, who was recently named to Trial Lawyer magazine's list of Top 100 Influential Trial Lawyers, said two other law firms had turned down the Rivera's case before it came to Janet, Jenner & Suggs. "The word is getting around that we're often successful with difficult cases and this case certainly proves that," he said.
One of the important facts military families need to know is that if they experience a severe injury in a military hospital, the government has strict rules about when a lawsuit must be filed. "I would strongly advise military families to check with a lawyer as soon as possible if they think medical error may have played a part in a severe injury or death." - More information about lawsuits against military hospitals.
###
Janet, Jenner & Suggs is a national firm noted for its expertise in birth injury and cerebral palsy cases, dangerous drugs and medical devices, and environmental litigation. The firm has offices in Maryland, South Carolina, Massachusetts, New York, Washington, D.C., Pennsylvania, North Carolina, Minnesota, and West Virginia. Its headquarters office is in Baltimore