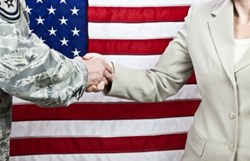 Dallas, TX (PRWEB) December 31, 2013
Career Confidential presents their most comprehensive job search product specifically tailored for veterans of the United States military called Mission: Transition. Even though the military provides post-military career placement services, once they're out of the military, those resources shrink away.
Peggy McKee, Career Confidential's expert career coach has a brother and sister who served in the military. Peggy understands how difficult it is for service members to transition back into the business world after serving our country. Career Confidential created Mission: Transition to give these amazing men and women every advantage possible for a successful job search.
The Mission: Transition job kit is a customizable, comprehensive, and proven career-advancing system. The kit contains nine hours of in-depth video training, podcasts, reports, templates, samples, printable handouts, and tutorials on the latest technology necessary for a successful job search, interview, and job offer. Personalized support is also available as part of the Mission: Transition package. Learn about more of the benefits of this program by clicking the link above.
Career Confidential Is Committed to Getting America Back to Work
Career Confidential was founded in 2009 under the guidance of CEO Peggy McKee and CTO Carl Chapman, two nationally recognized experts in the field of job search training. Career Confidential's successful first product, the 30/60/90 Day Business Plan, spurred the creation of over 30 products today that provide tools, techniques, and tips to help every job seeker find the perfect job.
Career Confidential exploded in 2012 with a 94% growth rate over 2011 in a down economy. After assisting over 10,000 people get jobs, Career Confidential has set a goal to get at least 10,000 more people into successful careers in 2013. Career Confidential is committed to getting the unemployed back to work in 2013.
Peggy McKee, a nationally recognized career expert, is available for personal career coaching. For answering questions about this topic overall, give Zanetta Siciliano a call at 800-691-2562.