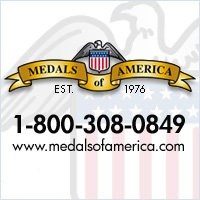 San Antonio, TX (PRWEB) August 12, 2013
All four appealing styles of the new names tapes that Medals of America has developed are now available and ready to ship. The name tapes are customizable and have room for up to twenty characters as well as sewn in Velcro brand fasteners on the back for smooth and easy applications. Each pack comes with three name tapes that are 5" X 1" and meet official regulations. Tapes come in Olive Drab Green, ACU Digital Camo and ABU Tiger Stripe designs. See detailed images on their website at http://www.medalsofamerica.com/ItemList--Name-Tapes--m-1486 .
Customers have expressed appreciation of the company's ongoing effort to supply the needed and desired products and these new name tapes are no exception. Their line of products is extensive and this company has long been known as the number one supplier of military clothing, gear and accessories in the United States.
When developing and offering new products, the fact that Medals of America has been Veteran owned and operated since 1976 gives them a unique perspective when compared to their competitors. From their own experience in the military they are able to better address the needs and wants of both Active Duty personnel and Veterans alike.
About Medals of America
Medals of America is the premier source for Military Dog Tags, Marine Corps Medals, Ball Caps, Badges, Military Ribbons, Patches, Rank, Rates and Insignia, as well as Custom Embroidered Clothing. We're also proud to offer our exclusive Rack Builder, Military Medals Checker and Custom Display Case Builder.
Veteran owned and operated for more than 36 years! Our mission is simple - we want every Veteran and Service person to display the Medals our grateful Nation awarded them. Anything we can do to have all the great Americans who served their country in the Military Forces display their award will enrich future generations by these symbols of Duty, Honor and Country.