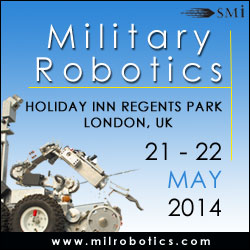 London, UK (PRWEB UK) 18 March 2014
Brazil has secured a $7.2m (£4.3m, €5.25m) deal with iRobot, a US-based company that makes defence and security robots for the military, who will create 30 new robots tasked with protecting and monitoring 12 cities during this year's World Cup.*
The robots are called PackBots from iRobot, and are one of the most versatile designs from iRobot for searching an urban area for anything dangerous. Each robot can fit in a backpack, reach up to 9MPH whilst traversing all kinds of terrain and can travel in water up to two meters deep.
With the growth in investment and the increasing demand in militaries around the world, Military Robotics 2014 conference comes at no better time to discuss the latest developments of unmanned and autonomous ground and marine vehicles being used; new technology; operational challenges that are faced and how to overcome them.
Click here for more information or to register today and save £100.
The 2014 expert speaker line-up includes:

Dr Bill Powers, Research Fellow, Center for Emerging Threats & Opportunities (CETO), Potomac Institute for Policy Studies, US Marine Corps
Major Philip Moore, SO2 EOD, DEODS, British Army HQ
Lieutenant Colonel Matthew A. Dooley, Chief of Lethal Branch, Army Capabilities Integration Center, US Army
David Hopper, Principal Consultant, Director, Advanced Robotic Technology
Lieutenant Colonel Hilmi Tekinsoy (Ret), Former Commander for Turkish Armed Forces, Freelance Defense & Security Consultant
Professor Rafal Zbikowski, Professor of Control Engineering, Cranfield University
General Thierry Cambournac (Ret), Formerly Inspector General of the Armed Forces, French Army, VP Human Resources, FINAERO
Bradley Jay Strawser, Assistant Professor of Philosophy, Department of Defense Analysis, US Naval Postgraduate School
Lieutenant Colonel Sándor ZSÍROS, Hungarian Army, Head of Technologies Department, NATO EOD Centre of Excellence
Dr Peter Sapaty, Chief Research Scientist, Institute of Mathematical Machines and Systems
Click here to view the conference brochure, including full details on speakers and presentations.
Do not miss the chance to stay up to date with the latest developments and challenges facing the world of robotics whilst having the chance to meet the key experts within the field.
Book your place today or contact the team on: +44 (0) 207 827 6054 for further information.
International Business Times, February 20, 2014
About SMi Group
The SMi Group is a highly professional, independent and global event-production company that specializes in Business-to-Business Conferences, Workshops and Masterclasses, and online Communities. The SMi Group creates and delivers events in the Defence, Security, Energy, Utilities, Finance and Pharmaceutical industries. For more information, please visit http://www.smi-online.co.uk