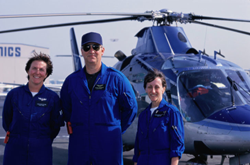 Strategy #1: Evaluate readiness to make a career decision...The likelihood of a successful job search and career change increases if a veteran is "ready" or in a good position to take action.
Portland, Oregon (PRWEB) October 31, 2014
In honor of Veterans Day on November 11, career guidance leader Career Key, http://www.careerkey.org, recommends four strategies to help veterans make a successful military to civilian transition. Leading to more confident career and education decisions, these strategies are based on the best practices and science of career counseling.
In career change, doing a little self-examination has big benefits, especially when veterans take a closer look at (1) their readiness for change, (2) their resources for making a good transition, (3) career options that are a close personality-career match, and (4) using a practical 4-step decision making process.
1. Evaluate readiness to make a career decision
The likelihood of a successful job search and career change increases if a veteran is "ready" or in a good position to take action. Readiness depends on many factors, like the ability to make a decision. It also depends on how complicated one's life is; are there significant family or financial pressures? Sometimes getting support in resolving a family issue frees up time and emotional energy to work on making a career change.
A short, affordable way to evaluate one's readiness is to take Career Key's Career Decision Profile assessment. It helps people identify and consider their barriers and readiness to make decisions.
2. Get more structure with the 4 S's of Transition: Situation, Self, Supports, and Strategies
Nancy Schlossberg developed an excellent "4 S Transition Model" that gives a practical framework for managing a transition. Although ideally used with a professional career counselor, individuals can get an overview in the above SlideShare presentation and on the Internet. The Model gives needed structure to the whole transition process, helping veterans identify and become aware of the sources of help they have and gaps they need to fill.
3. Explore and narrow career options to personality-career matches using Holland's Theory
Learning how to apply "person-environment fit" in Holland's Theory of Career Choice to exploring career options make the process more practical and relevant to veterans. While it helps to look at crosswalks of military occupations to civilian equivalents, a better place to start is by identifying one's strongest Holland personality types using a valid Holland assessment like The Career Key test.
Veterans can then narrow their exploration to occupations that match their personality, that have work environments more likely to lead to job satisfaction and success. As a result, military to civilian career crosswalks become more relevant and useful. Career exploration is not just about identifying the jobs a veteran can do (crosswalk civilian equivalents). Even more helpful to long term success is identifying jobs that fit a veteran's personality best.
Veterans should also match their strongest personality types to college majors and training programs if they choose to go back to college or get additional training.
4. Use the 4 step ACIP decision making model
Making a good career decision that won't be a source of regret begins with following a four step process called ACIP. The four steps are:
1. Alternatives – identifying options
2. Consequences – listing the pros and cons and using the free download Decision Balance Sheet
3. Information – actively searching for additional information to uncover potential negative information (reality testing), and
4. Plans – taking action and handling negative consequences as they occur.
Short videos and articles at The Career Key website explain the ACIP model using real-life examples, along with a free downloadable Decision Balance Sheet to fill out for each option being considered.
About the Career Key
Since 1997, Career Key has been the #1 Internet source for helping people choose careers and college majors. Advertising and registration-free, it offers valid career tests and career and education advice articles based on the best practices and science in the field. Career Key's author is nationally recognized counseling psychologist, Dr. Lawrence K. Jones, NCC, Professor Emeritus at N.C. State University.