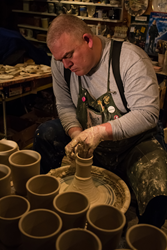 This evening will be a wonderful tribute to the servicemen and women who have made an indelible mark on the art world with their work and creative vision
Los Angeles, CA (PRWEB) October 08, 2014
Otis College of Art and Design and the Otis Veteran's Association, in conjunction with Craft in America, is proud to present an evening honoring America's servicemen and women on October 30, 2014 at Otis College of Art and Design in the Galef Center for Fine Arts Clay Studio, located at 9045 Lincoln Boulevard, Los Angeles, CA 90045.
The event will begin at 6:30pm with a live demonstration by artists Claire Hanzakos, Kaija Keel, and Jilda Schwartz, who will be sculpting life-size busts of three Otis alumni who are veteran artists: Tom Van Sant ('57 MFA), Kent Twitchell ('77 MFA), and George Martinez ('14 BFA). The demonstration is sponsored by the Los Angeles-based Art Options Foundation as part of its Face to Face visual art project, which involved the sculpting of one hundred life-sized busts of men and women veterans as an act of remembrance and historical record. During the demonstration, a short documentary on the Face to Face project will be screened.
Immediately following the sculpture demonstration, Craft in America will premier its newest documentary, "Service," exploring creativity and healing among our nation's veterans and soldiers. Craft in America is an award-winning series that examines America's creative spirit through the language and traditions of the handmade. This advance screening of "Service" will be shown in the Galef Center for Fine Arts at Otis College of Art and Design at 8:00pm, "Service" will be broadcast nationwide on PBS on November 2, 2014. KOCE Los Angeles will air "Service" at 10:30pm Sun. Nov. 2nd.
The event was developed through Otis' Creative Action class "Clay in LA: 1945 to Present," which is supported, in part, by a grant from the Hearst Foundations. Additional support for the Otis Veterans Association is provided by The Ahmanson Foundation and its Ahmanson Veteran's Scholarship Initiative. This event was co-organized by Jo Lauria of Craft in America, who is also a Creative Action mentor.
"This evening will be a wonderful tribute to the servicemen and women who have made an indelible mark on the art world with their work and creative vision," said Otis Product Design Faculty Joan Takayama-Ogawa. "We are proud to highlight and celebrate these exceptional artists and their creative achievements."
This event is open to the public. RSVP at (310) 846-2617 or through email at mtecle(at)otis(dot)edu
EVENT DETAILS
Thursday, October 30, 2014 6:30pm – 9pm
Otis College of Art and Design / Galef Center for Fine Arts Clay Studio
9045 Lincoln Blvd., Los Angeles, CA 90045
Free parking is available at the Otis parking garage
AGENDA
6:30pm – "Face to Face" Documentary Screening and Live Sculpture Demonstration
8:00pm – Craft in America Premier of "Service"
ABOUT THE CREATIVE ACTION PROGRAM
The Creative Action Program at Otis College of Art and Design offers project-based courses that match multidisciplinary teams of students with local and international community partners. Creative Action courses introduce students to pressing environmental and social issues through partnerships with nonprofit organizations and public agencies. Through research, leadership, and collaboration, students focus their creativity on real-world problems. These skills are essential to the career of an artist or designer.
ABOUT CRAFT IN AMERICA
Craft in America, the Peabody Award-wining series, continues to explore America's creative spirit through the language and traditions of the handmade. The newest episode, SERVICE, part of the PBS veterans initiative Stories of Service*, is the story of craft and the military and premieres on PBS in November. From the origins of the Army Arts & Crafts Program and the G.I Bill to contemporary soldiers and veterans, SERVICE documents the power of the handmade to inspire, motivate and heal.
Ancillary projects include hours of online videos and interactive learning materials, museum exhibitions, the Random House book Craft in America: Celebrating Two Centuries of Artists and Objects, and the free-to-the-public Craft in America Center located in Los Angeles, offering artist talks, exhibitions, workshops and a library of publications on the history and techniques of craft.
ABOUT OTIS COLLEGE OF ART AND DESIGN
Established in 1918, Otis College of Art and Design is a national leader in art and design education. The College's mission is to prepare diverse students of art and design to enrich our world through their creativity, skill, and vision. Alumni and faculty are Fulbright, Guggenheim, and MacArthur grant recipients, Oscar awardees, legendary costume designers, leaders of contemporary art movements, and design stars at Abercrombie & Fitch, Apple, Disney, DreamWorks, Mattel, Nike, and Pixar.
Otis enrolls approximately 1,150 full-time students, and offers Bachelor of Fine Arts degrees in Architecture/Landscape/Interiors, Digital Media (Game and Entertainment Design, Animation, and Motion Design), Fashion Design, Communication Arts (Graphic Design, Illustration, and Advertising Design), Fine Arts (Painting, Photography, and Sculpture/New Genres), Product Design, and Toy Design. Otis also awards the Master of Fine Arts degree in Fine Arts, Graphic Design, Public Practice, and Writing.
The five-acre main campus is located on L.A.'s Westside near the beach and LAX; Fashion Design is in the heart of the downtown fashion district; and Graduate Studios are on the Creative Corridor in nearby Culver City and in the 18th Street Arts Center in Santa Monica.
3,000 adults and children participate in Continuing Education art and design classes and workshops