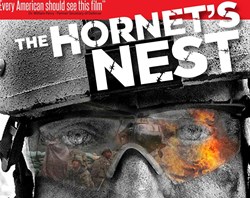 A riveting, powerful film that every American should see.
New York, NY (PRWEB) January 31, 2014
The producers of the groundbreaking documentary The Hornet's Nest are hosting an exclusive screening of the film at the famed Asia Society and Museum on Friday, January 31st, 2014. The invite-only event will provide a close look at the film former Secretary of Defense under President Clinton and current National Security Advisor Dr. William Perry who proclaimed, "a riveting, powerful film that every American should see."
The star-studded event will be attended by celebrities, NFL football players, coaches, generals, filmmakers, and gold star families.
The Hornet's Nest tells the story of a father-son journalism team embedded with the No Slack Battalion of the 101st Airborne and the 2/8 Marines in the Hellman River Valley. Peabody and Emmy Award-Winning conflict Journalist Mike Boettcher, and his son, Carlos, were offered unprecedented access to the group as they made preparations for a strategic attack against Taliban leader Qari Zia Rahman in Northeast Afghanistan, and their coverage gives a breathtaking view of the experience of war. Abandoning the gloss of traditional Hollywood military dramas, it provides rare insight into the reality of conflict and the personal experiences of those called to serve.
Produced by veteran film makers David Salzberg, Christian Tureaud and Johnny de la Valdene, the two year project was a labor of love, as Boettcher strove to give voice to the hardships faced by our soldiers in a battle that has become increasingly distant to the American public. A painfully honest account of life in the trenches, the film is proud to be endorsed by USO and it will be inducted into the Army Hall of Fame and Museum at Fort Benning as a piece of National History in 2014.
"I knew instantly that this was a story America needed to hear," said Executive Producer, Johnny de la Valdene. "It tells the story words alone cannot: a tale of bravery, sacrifice, honor, compassion, loss, and triumph. It's real. There are no manufactured plot twists or reimagined characters; just the selfless service and personal journeys of true American heroes we will never be able to sufficiently thank."
"I am incredibly thankful for the vision of Executive Producers Stewart Hoge and Ed Coppolla," said de la Valdene. "Without their generosity and foresight we never would have been able to share this powerful story with the American public."
"The support we've received from military charities and companies has been overwhelming," said Tureaud. "Partners like American Airlines have enabled us to share this story with gold star families around the country. Without their help, we never would have been able to share this story with the people who need it the most."
The screening event will kick-off with a reception and musical performance at 6:30 PM, followed by a viewing of the film and a Q&A session with David Salzberg, Christian Tureaud, Mike Boettcher and Carlos Boettcher. For more information on "The Hornet's Nest" or tonight's screening event, email or visit http://www.thehornetsnestmovie.com.