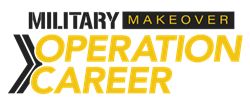 "In the nearly three decades since I retired from the Navy, I've never really taken the uniform off because standing up for those who are serving now and those who have served has been the greatest honor of my professional career." - Montel Williams, Host and Co-Executive Producer
DEERFIELD BEACH, Fla. (PRWEB) August 23, 2019
Transitioning from the military into civilian life can be very stressful and challenging, particularly when it comes to employment and new career paths. Military Makeover's Operation Career, hosted by Military Veteran and TV Personality Montel Williams, explores companies that are committed to our military veterans and dedicated to hiring and empowering them as they transition out of the military and into the civilian sector.
Airing on Lifetime TV, Operation Career explores Highmark Health, a national health and wellness organization as well as the second largest integrated delivery and financing system in America. They have a national footprint, with businesses in health insurance, health care delivery, dental solutions, reinsurance solutions, retail eyewear and eye care services, IT solutions, and post-acute management solutions.
Highmark Health has a robust Military Toolkit for hiring managers and recruiters, which provide extensive resources on best practices in interviewing, translating veteran resumes, and successful transitions into the civilian workforce. Highmark Health also has a Veterans Business and Employee Resource Group, which works closely with an internal Military Advisory Council on veteran employee support and strategies.
Tune in to this magazine style show as Host Montel Williams introduces you to some of Highmark Health's successful veteran employees, such as United States Air Force Veteran Sharon Duke who served 20 honorable years in the military. Sharon shares her story from veteran outreach, to recruitment and training for the position she has held for the past 14 years.
First episode aired on August 23rd on Lifetime TV.
All aired episodes can be found at http://www.militarymakeover.tv.
Military Makeover with Montel®, A BrandStar Original, is America's Leading Branded Reality TV Show that offers hope and a helping hand here on the home front to members of our military and their loved ones. A veteran of both the Marine Corps and the Navy, talk show legend and military advocate Montel Williams, who creatively co-produces the show along with a colorful cast that seeks to transform the homes and lives of military families across the country. The cast includes co-host Art Edmond, designer Jennifer Bertrand and contractor Ryan Stanley. This special series enlists caring companies of all sizes as well as non-profits and the local community. Help starts at home for veterans on Military Makeover. Join us as our makeover team engages to change the living situation – and the lives – of these deserving families. Military Makeover Operation Career EPK.