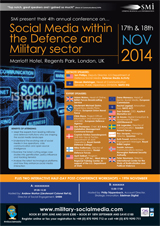 "Excellent line up of speakers and topics." - RAF
London, UK (PRWEB UK) 9 June 2014
SMi Group are thrilled to announce that registration is now live to attend the 4th annual conference, Social Media within the Defence & Military Sector, taking place on 17th and 18th November 2014 in Central London.
Attendees will have the opportunity to discuss and network with MoD's from across the world and key military institutions such as the U.S Army, Royal British Legion and NATO.
Social media is an essential part of modern communication and it is a conversation that is essential to the defence and military sector. This conference will aim to provide attendees with the tools and knowledge necessary to excel in this field of communication.
Previous testimonials include:
SVPA, (Head of Communications), -- "Top notch, great speakers and I gained so much!"
RAF (Information Officer) -- "Excellent line up of speakers and topics."
Ministry of Defence, Singapore (Executive) -- "There were many fascinating presentations."
Conference highlights include:

A chance to meet the experts from leading military and defence institutions who are shaping the social media landscape
Updates on the evolving role of social media in live operations, crisis communication and open source intelligence
Insights into the latest cutting edge case studies with a focus on gamification, policy influence and tracking live conflicts
Detailed analysis into latest technological platforms and how they enhance social media interaction
For those who are interested in attending, there is currently a £300 early bird discount available online at http://www.military-socialmedia.com.
Key speakers include:
Ian Phillips, Deputy Director, U.S Department of Defence Social Media, Defense Media Activity
Steven Mehringer, Head of Communication Services, Public Diplomacy DIVISION, NATO HQ
Adam Waters, Head of Online, British Forces Broadcasting Service
Lieutenant Michael Quinn, Royal Navy Media Plans Officer, European Union Naval Force
Dan Thompson, Chief, U.S Army Installation Management Command Europe
April Deibert, Program Manager, CTP Inc - West Africa Regional Training Center, in support of the U.S. Department of State
Dana Manescu, Head of Sector, Social Media, European Commission
Ruth Powell, Armed Forces Engagement Manager, Royal British Legion
The brochure will be available soon. To see the current speaker line-up, click here.
Social Media within the Defence & Military Sector
17th & 18th November 2014 | Marriott Hotel, Regents Park, London UK
http://www.military-socialmedia.com
Join the conversation on LinkedIn and Twitter | #milsocialmedia
---end---
About SMi Group
Established since 1993, the SMi Group is a global event-production company that specializes in Business-to-Business Conferences, Workshops, Masterclasses and online Communities. We create and deliver events in the Defence, Security, Energy, Utilities, Finance and Pharmaceutical industries. We pride ourselves on having access to the worlds most forward thinking opinion leaders and visionaries, allowing us to bring our communities together to Learn, Engage, Share and Network. We hold events in over 30 major cities throughout the world including London, Paris and Singapore and to date have welcomed over 200,000 participants from 80 countries.
More information can be found at http://www.smi-online.co.uk.