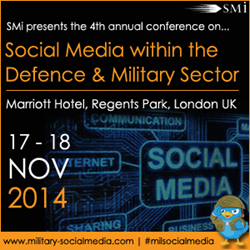 'Recent unrest in the Arab world, facilitated by these same trends, has underscored the need for governments to incorporate holistic approaches to governance in an age of social media.'- Dan Gabriel
London, UK (PRWEB UK) 7 August 2014
SMi Group have worked closely with an array of key military institutions and industry pioneers to host the only military focused social media event in the market . Social Media within the Military and Defence Sector 2014 will feature presentations from AIRBUS, Lockheed Martin, US Department of State, NATO, European Defence Agency plus many more. Click here to see the full speaker line-up and agenda for 2014.
Attendees will also have the chance to hear from Dan Gabriel, CEO from Applied Memetics in his presentation entitled: Digital influence and social media analytics in denied areas as he discusses the USAID ZunZuneo experiment in Cuba and leveraging the politics of revolution in Venezuela.
Mr. Gabriel is a former Central Intelligence Agency (CIA) counter terrorism officer with 10 years of expertise in countering violent extremism (CVE), directing counter insurgency operations, and developing and benchmarking counter radicalization theory and methodology in the Islamic world. He has served as a senior strategic communications advisor, consultant, and strategist to USG policymakers, civilian/military officials, international media organizations, and foreign governments.
"Governments and organizations today must be well-equipped to manage the information flows and information systems that are vital to protecting their national security, or defending their bottom line. Simultaneously, state and non-state actors around the globe face a similar major challenge: harnessing the evolution of new, pervasive and powerful information and communication technologies. Recent unrest in the Arab world, facilitated by these same trends, has underscored the need for governments to incorporate holistic approaches to governance in an age of social media". - Dan Gabriel, CEO from Applied Memetics, Former CIA
Confirmed attendees so far include:
Applied Memetics, British Forces Broadcasting Service, Department of Defense Social Media, Department Of State, EADS, ESG GmbH, EU Naval Force Somalia Operation Atalanta, European Commission, European Defence Agency, Fieldcraft Studios, Finnish Defence Forces, IBM UK, King's College London, LGEOResearch, Lockheed Martin, M&C Saatchi, Market Wired, UK MOD, NATO HQ, Norwegian National Security Authority, Royal Danish Defence College, SHRM, Stada Arzneimittel, Swedish Armed Forces, Texifter LLC, The Royal British Legion, U.S. Army Installation Management Command Europe, plus many more...
For further details on his presentation and to see the full speaker line-up, visit http://www.military-socialmedia.com
Social Media within the Defence and Military Sector 2014
17-18 November, Marriott Hotel Regents Park
http://www.military-socialmedia.com
#milsocialmedia
About SMi Group:
Established since 1993, the SMi Group is a global event-production company that specializes in Business-to-Business Conferences, Workshops, Masterclasses and online Communities. We create and deliver events in the Defence, Security, Energy, Utilities, Finance and Pharmaceutical industries. We pride ourselves on having access to the world?s most forward thinking opinion leaders and visionaries, allowing us to bring our communities together to Learn, Engage, Share and Network. We hold events in over 30 major cities throughout the world including London, Paris and Singapore and to date have welcomed over 200,000 participants from 80 countries.
More information can be found at http://www.smi-online.co.uk.